Did you miss attending Mido 2017? The biggest eyewear trade show of wonders, the walking showcase of latest collection from the most premium brands. Let's have a look at the trendsetters of the season, straight from the Mido 2017 collection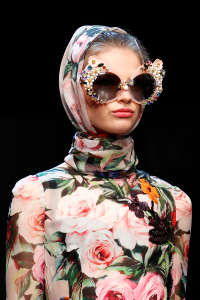 When we look at a catalogue, we see what's trending. But when we attend trade shows like Mido, we know what's going to be the trend. Mido 2017 has not failed to surprise us. Team VisionPlus attended the trade show and had a wonderful experience. The show displayed not just the various designs, but even the efforts and innovation behind the fine craftsmanship.
Florals never go out of style
During the show, brands took an opportunity to introduce a fresh and versatile proposal designed to seduce a young woman, who is keeping tabs on trends,  but has a simple and romantic soul. Brands like CCS by Coco Song used natural elements such as silk, dried flowers and feathers – that were laminated into new crystalline and transparent acetates or pearl colours: the result is a line of much lighter frames both with regard to colour and to the fresh and bright style, which is ideal for a young audience looking for an easy-to-wear accessory with a contemporary look, without sacrificing style.
This time at Mido, the models from CCS by Coco Song, focused on oriental inspiration including the natural world of flowers, playing with the vivid and intense tones of pink, red, orange, purple, green and blue.
And then there are brands that have fine craftsmanship and use of precious details that characterised in their collection, like Dolce & Gabbana. The Flowers Lace sunglasses and glasses collection, has sicilian lace applied on the frames is enhanced by Swarovski crystals and hand-modelled rose buds.
Technology and style go hand-in-hand
Some of the brands have always been fair. And they never fail to amaze the visitors with HDA® technology. In this prestigious international tradeshow, brands played with their strengths of innovation, creativity and passion.
Okia's Art Deco, Galaxy Glacier and Gold Paradise collection was welcomed very positively thanks to their sensational mix of high technology and fashion. A huge interest was raised as well by 360 Hinge – a 360° rotated integrated hinge with worldwide invention patent by OKIA – and the revolutionary 100% bio-degradable Bio Lens, which can be broken down into CO2 and H2O within 120 days. Finally, attendees were surprised by the preview of the innovative Wave by OKIA Tech, an integrated eyewear technology transmitting sound waves directly to your ears that perfectly reflects the brand's commitment to develop state-of-the-art eyewear solutions for the future.
Materials that distinguish!
Inspired by the stunning landscapes of the Dolomite mountains, the WooDone brand of wood eyewear from South Tyrol was displayed at Mido 2017.
Wood, the very heart and soul of the brand, has been teamed with horn and metal, creating precious, attention-grabbing styles and adding to a collection that is all about attention to detail and master craftsmanship.
The Horn Collection reproduces the existing collection in wood, cladding them in this even more precious material, in two versions: polished and matt. One-of-a-kind eyewear, handmade by expert craftsmen for a refined, unmistakable style.
Metal Wood Collection looks like a perfect mix of elegance and exquisitely tailored workmanship. By cleverly combining wood from the Dolomites with metal, WooDone has done a great job designing the styles with a chic, contemporary touch for sunglasses and specs. The eyewear in the Metal Wood Collection comes in a boxy format with double bridge for men, and in a rounded retro-style shape for women, softening the facial features.
Marble Craftsmanship
Budri, the Italian pride, renowned in the world for its exquisite marble craftsmanship presented an extraordinary collection, with new designs and outstanding  colour variants.
Due to the complexity arising from the material itself, making eyewear in marble demands constant research and experimentation, not necessary with other materials. The types of marble selected by Budriare obtained from quarries situated in different parts of the world. Therefore, processing a new material means dealing with its specific unknown, unpredictable characteristics.  To handle these challenges, the Budri eyewear lab employs skilled chemists, engineers and geologists, who study each stone's porosity, strength, absorbency and reactions. A special fibre, patented and engineered by Budri, gives the front and temples greater strength and lighter weight.
Budri, for its exclusive Marble Eyewear Collection, has chosen the brand ZEISS, the world's leading manufacturer of precision optics that combine technical expertise and innovative ideas into exceptional visual experiences.
The Budri Eyewear collection achieves a status above fashion and trends, expressing a tradition of fine hand-workmanship combined with technical innovation, to highlight the qualities of a noble, exquisite stone.
Shapes That Shine!
Some of the brands at Mido 2017 were simply breaking the stereotypes of shapes and coming out with what you have not seen, with out-of-the-ordinary and attention-grabbing styles that are veritable masterpieces.
All Rye&Lye frames mix past and future with the sophisticated allure of their retrò shapes and use of innovative materials and leading-edge technologies, making these eyeglasses design objects true and proper, to be worn like works of art.
A careful eye for detail and ongoing research into aesthetics make Rye&Lye eyewear a symbol of exquisitely crafted production and excellence.
While we are talking of shapes, we must mention another interesting eyewear label, Pawaka, which is conceptualised by Indonesian designer, model, actress and environmental activist, Fahrani Empel (Fa'). Showcasing the latest collection at Mido, a forward and innovative interpretation has been drawn from the designer's inspiration in evolution, Native American philosophy, modernity, nature and her constant belief in the Indonesian heritage – the Dayak tribes of Borneo.
Entirely made by hand in France and Italy; pairing Mazzucchelli acetate or solid aluminium with Carl Zeiss vision sunlens.
The synergetic effect of combining Fa's design aesthetic and acclaimed insight into pop culture, with the craftsmanship of the best European artisans; is a true reaction of the past, present and future.
Frames that sparkle!
Mido 2017, definitely 'live on wonder'. The brands made sure of that such as Kirk & Kirk! The Kaleidoscope collection by Kirk & Kirk has been given a radiant boost. Inspired by some of their earliest designs, Kirk & Kirk have gone back to their roots to launch 'Kaleidoscope – Quartz-Edition' a collection of specially commissioned materials that shimmer and sparkle.
Exuberant, celebratory eyewear that is bold, beautiful and confident. The four new colourways; Onyx, Amber, Sapphire and Ruby – these glimmering glasses are simply show stoppers.
With an endless energy for the industry and their business, the future looks bright (and sparkly) for this passionate brand. Handmade in France using a unique grade of acrylic; this material allows the frame to have substance, yet be incredibly lightweight to wear and wonderfully comfortable. Welcome
the quirky, everyone!