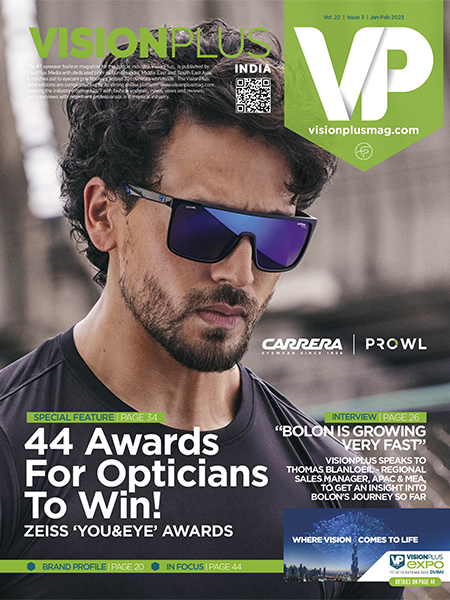 Bolon Is Growing Very Fast
Thomas Blanloeil - Regional Sales Manager, APAC & MEA, Bolon Eyewear shares insights with readers about their marketing strategies, collections and future plans for the brands
Bolon is present in 70 countries around the world today.Popular brand ambassadors such as Sophie Marceau,  Anne Hathaway and Hailey Beiber are part of the marketing strategy. In this issue, we speak to Thomas to get some interesting insights into the journey of this brand.
VP: Thomas can you start with giving our readers your background? How did you become a part of Bolon he way you are today?
TB: Sure. So I'm France based now in Singapore for 11 years which is what I call home now. I've been in the eyewear industry for 6 years, looking after distribution in Asia and more recently I joined Essilor-Luxottica group looking after Bolon and Molsion distribution for APAC and Middle East.
VP: What about your brand Bolon, I mean Bolon is one of the popular brands right now and you see it everywhere. I mean I think it's one of the fastest growing brands amongst the non-designer brands.
TB: Yes, so Bolon has been growing very fast and we gained market shares very quickly. In less than ten years now, we are in almost 70 countries around the world, Asia being the strongest market for us where we have business of clients but we are quickly also gaining distribution in India where we are today and we are also across Europe
and the Middle East.
VP: You have a big collection as I see the Spring/Summer 2023 collection, can you please tell us about your collection over here?
TB: Yes! Basically Bolon, the core DNA of the brand is fashion and the brand is very fashionable and yet it is very much wearable, which is the main highlight of the brand. Second, it is all about the craftsmanship that we have.
We have a state-of-the-art manufacturing plant which we constantly invest into our latest technology. The quality is always something that comes up when you talk to clients, especially here, the technology aspect from a client from India is very strong so we received good feedback. And the third one is, offering something that is value for money.
So it's fashionable, good craftsmanship but very good value for money which is what we have again in this collection in various styles like this big aviator Double Bridge, also products like this, it's a very beautiful green colour, very fashionable, and a beautiful pair of eyewear. Also something that was very key for us to launch in India specifically was to have more rimless sunglasses for the men's collection which is exactly what we are delivering today.
VP: So you have a Male collection, is it?
TB: Yes, we have a Male collection as well, which is very very well received.
VP: You've found your distributors in India as Iris, I mean, a brilliant company backed by Ganko, which has over 8 decades in the business. So how has your experience been so far, how do you guys work together?
TB: It is a great partnership and since they took on the brand, they have done a fantastic job, of course in developing the distribution of the brand and also to convey the image that we have currently today - something very trendy, very fashionable.
So they've done a fantastic job and we know that they have exciting plans to further extend the distribution and our market share.
Thanks to all their connections in the market, as you mentioned, more than 80 years of being in the market so they know a lot of people and I know that a lot of retailers ask them for Bolon which is very exciting for us.
VP: I know Bhavin is very excited about the brand, Dia is very excited about the brand.
TB: Yes, we are delighted to work with both Bhavin and Dia and the fantastic team here which are very, very dedicated.
VP: You mentioned the other brand was Molsion.
TB: Yes, that's right. The second brand part of our portfolio is Molsion which is a brand which shares a lot of the same DNA as Bolon, in terms of craftsmanship and the attention to detail is at its core.
But the brand is also more fashionable, more trendy in terms of colour, design, the combination between the frame and the lenses is stronger in terms of fashion and the price positioning is even more competitive because it is between 15 to 20 per cent below Bolon, which is very competitive which in a market like India which is price sensitive, it is perfect for us here.
VP: I'm sure Bolon has its uniqueness, it has a very premium feel. The designs of Molsion, are they on the similar lines, are they trendier, are they for younger kids?
TB: Yeah exactly, so like I mentioned, more fashionable compared to Bolon but I insist on stressing the fact that it's still very wearable. When you mention a lot of high fashion which you can't wear, but this one you can really wear. You can play more with the colours, to make it really like a fashion statement or a fashion accessory.
VP: So Thomas, I know the success of Bolon has been huge in India, I can see it in the market, I've heard about it often. Even carrying this in our magazine too. I just wanted to know, what are your plans? How are you planning to promote Bolon and Molsion in this market? What are your plans on training the opticians maybe or your marketing strategy? What kind of plans do you have to promote the brand over here?
TB: Yes so, first in terms of distribution like I mentioned, we have Iris to represent the brand. A lot of more distribution and stalls will keep on opening for the next few months and years.
Also, in terms of marketing, we have shifted from a big international brand ambassador, we started to have Sophie Marceau when we first started. Then we had Anne Hathaway, the Hollywood actress and then we had Hailey Beiber and we have now shifted our marketing strategy to have more local brand ambassadors to be closer to each country and to each region where we are working.
VP: So do you have any plans for India for ambassadors?
TB: Yes, that is coming.
VP: Are we expecting Shah Rukh Khan or John Abraham?
TB: We'll see. There is definitely something that we have been keen to explore in the future and yes, we will have an ambassador.
VP: Lovely speaking to you Thomas, thank you so much for this and wish Bolon all the best.
TB: Thank you.