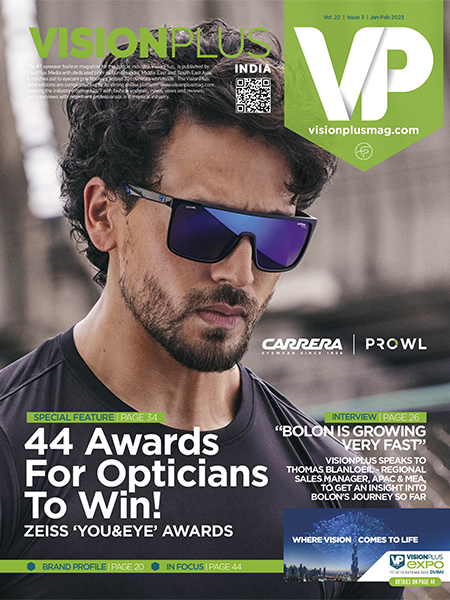 Caron: A British Brand With A Unique Optical Heritage
A relatively new brand, Caron Eyewear, is definitely getting a lot of attention. And based on the product line and the quality, the attention seems to be well deserved
Caron Eyewear deserves to be up there as one of the more prominent recent brands. There's a special appeal to the way the products are designed and the way the brand speaks to you. 
Inspired by women who are unafraid to embrace their natural beauty and femininity alongside their personal strength and independence and exclusively available through independent opticians, Caron Eyewear offers top-grade materials – European acetates and stainless steel with state-of-the-art ION plating – and expertly considered designs that are as wearable as they are striking.
The History
It all begins with Caron Krait, who is definitely no stranger to the eyewear industry. Her family has been in optics for over 60 years, starting with her grandfather.
She began her career working as a dispensing optician in the largest single optical store in the UK. Dispensing was a vital part of her experience in optics. She enjoyed the experience of working face to face with the customer in a retail environment, and she eventually became involved in the buying for the store.
She learnt a lot about the products, what sold best, what stood out in the store. She was always interested in fit, comfort and style. This was definitely an important formative experience, learning about people's relationship with eyewear: seeing what they loved and helping them understand what suited them. This was an integral learning experience that helped her understand more about the customer and the optical market in general.
After five years working in-store, she made the transition from retail to wholesale and began designing for an in-house label. She progressed to lead designer and eventually managed a team that produced more than 40 individual eyewear collections for every sector of the optical market, from mainstream branded collections for international retailers, to limited-edition couture collections for exclusive boutiques and independent brands.
Following this experience, she decided to take the step to become an independent design consultant. This meant delivering a comprehensive range of services to meet the  client's eyewear design and development requirements, from initial concept sketches, through prototypes, to full production and beyond. Caron helps brands turn their ideas into commercially successful eyewear collections and continues to offer this service to a network of clients today.
The Brand
At the core of the brand's ethos is a relentless dedication to design excellence. Inspired by modern women who embrace their natural beauty and femininity alongside their personal strength and independence, the brand draw inspiration from a truly broad range of sources including fine arts, cinema, architecture, and product design to create eyewear that is truly unparalleled in terms of both aesthetics and ergonomics.
The Creation Process
Caron says, "I love to combine materials and textures within the products I create. The key is the precise fusion of materials". This is also something that is very on-trend in interiors, which is often an area of key inspiration for her. The importance, according  to her, is to combine materials with precision and symmetry. She sketches and drafts her own designs from scratch and the entire process from concept to a piece of finished eyewear can take up to one year. "I thrive on creating beautiful pieces and have endless creations stored in my head that I want to reveal." she adds.
---
Caron Spring Summer 2023 Collection
"Inspiration can come from anywhere, and this season I've drawn from sources as diverse as precious stones, bold retro stylings, and gorgeous bright blocks of colour that fire the imagination and ensure that you feel fabulous whenever you're wearing Caron" says founder and designer Caron Kraitt.
Optical model "Stand Out" is a bold, feminine design that exudes confidence & charisma. Inspired by the chic femininity and glamour of the 1970's, this oversized style is crafted in Mazzucchelli acetate and features bright colour-blocking, which adds a contemporary flair to an already iconic silhouette.
---
Optical models "Precious" and "Adored" both showcase an effortless balance of modern design & vintage cool. Drawing inspiration from precious gems, they're crafted from beautiful translucent acetates and feature sculptured facets which add extra dimension and undeniable class
---
The collection's new sunglasses begin with the model "Wild Thing". A retro-inspired aviator shape with a futuristic twist, Wild Thing explores balance and colour through contrasting front laminations that follow through to the angular sides.
---
Finally, "Last Word", high impact sunglasses with a powerful identity & style. A creatively sculpted geometric silhouette and an angular brow with flawless proportions, Last Word also explores balance and colour through contrasting front laminations that follow through to the statement sides.