Disrupting Optical Business
After sharing his expert views on the current state of affairs in optical business, here's Pragnesh Gangar talking about what he calls a paradigm change that required in making the business atmosphere better
A Paradigm Shift
What if we could shift the idea of eyewear from the notion of products to Eye Care which is essentially an experience? How might we reframe the Eye Care from a need to a necessity, with a Care before Cure approach? How might we, as traditional opticians, be the heroes and expert care givers?
The solution: Eye 360°
Win the hearts of customers and the trust of traditional opticians.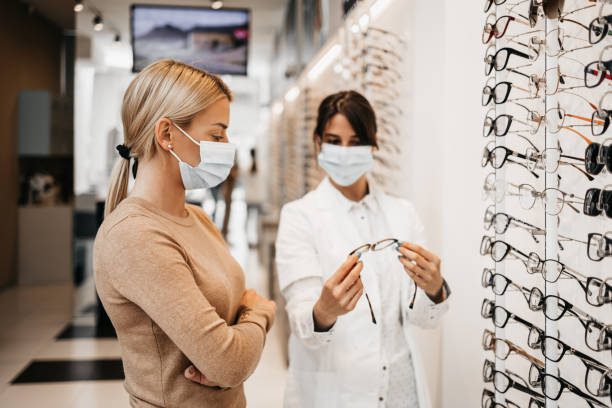 Engage
Let's start with the customers first.
With COVID screen time and eye stress / screen related problems especially among children and youngsters is rapidly increasing. But being at home means that people, especially parents are also investing more time to look for quick, easy yet accurate eye tests/ exercises that they can perform at home.
While there are multiple such digital products / tools available on the app market, most of them lack credibility. What if we could create a platform that allows them to perform a wide range of eye tests/ exercises at home, with accurate and verified results?
Modern retail keeps pushing products to customers, most of which are of little or no use. Can we shift from a sales driven to a care drive approach, where we bring in our expertise to advise customers (especially parents of children) to start off with Screen glasses/ anti glares even before they get their first powered pair?
People love sharing everything from coffee to zumba on social media. What if we could start an Eye Club as a community and conversation starter, where people can come and share what they are doing, how they are feeling and what they are creating..so that the conversations become more meaningful.?
Can we create a membership model for 40+ year olds in the Eye Club, with benefits such as Third pair free, alerts, notifications and reminders to get their eyes tested? Can we create and dispatch a monthly newsletter from the platform to this community to provide expert tips on eye related challenges?
Endear
To win the hearts of customers, we need to consider what they want now and in the next.
The future of eyewear is way beyond prescription eyeglasses. Thanks to technological advancements in eyewear, we have the opportunity and ability to create innovative products that focus on both improving vision and augmenting our reality.
This is the age of Wearable artificial vision devices.
A wearable artificial vision device incorporates cameras into eyewear. There are Wearable devices where the camera analyzes what the user is looking at and then "reads" what it is seeing back to the user via a small earpiece. In other variants, high-definition cameras project images from a person's surroundings to the eyewear lenses, magnifying objects and texts.
What if we could reposition Eyewear as Wearables, and create cool new Wearables which can become lifestyle accessories for adults, and a cool new style statement (like Titan Swatch) young adults, pre teens and children?
Most modern Optical Brands tend to push eye products designed for adults to children, pre-teens and teens. However, the lifestyles of these future customers are very different from their parents. Screen time addiction combined with intense but limited outdoor activities leads to eye problems, especially digital eye strain from a very young age. But no single brand in India caters to all the Eye Care and Eye Wear needs of Gen Next… the 0 to 18 year olds.
What if we could create a Life- Eye Style Brand and products which would offer a diverse range of eye wear products and accessories for kids/teens, by understanding necessities based on their lifestyles.
Empower
While we build deeper, more meaningful engagements with our customers, we need to make the Traditional Opticians the heroes.
Whether it's about buying a new product, service or an experience, people like to feel cared for. Care, which can be demonstrated by the proficiency and expertise of the person serving them, especially when making the buying decision. What if Eyecare Practitioners (ECPs) are provided with knowledge leadership, with trends, technologies and upskilling through quality training, empathy building and sales training so that they become expert.care providers, who are trusted as the best!
Can infra shared labs be created where ECPs can innovate and test new lenses/ frames accessories? Besides, offer them rich analytics drawn from the platform's user data so that they are aware of and can cater to what customers want.
What if I could inspire ECPs to unite and create a strong national union and movement, the Eye Union of India, to ensure expert Eye Care for everyone, everywhere!
Creating a movement
Every movement starts with the people. Once we demonstrate our expertise by engaging meaningfully with the customers, endear ourselves to them and empower the traditional opticians, we will be able to create a growth oriented system and ecosystem by integrating the nation's opticians and optical businesses. A movement that will benefit thousands of local opticians, optical businesses and customers.
How might we design this movement
1) Ethical Practices
2) Brand Identity
3) Brand Building and Marketing Support
4) Creating Eyecare Awareness
5) Strong Systems and Processes
6) Investment in Information Technology
7) Website Design and Maintainance Support
8) Creating Our own Ecommerce platform/apps
9) Customer Relationship Management
10) Loyalty Program
11) Customer Obsession - Giving Wow experience consistently
12) Maximum Return on investment
13) Scientific approach in Merchandising mix
14) Right Purchase pattern
15) Creating House Brands (Frames/SG/CL)
16) Look and Feel of the store - Modern and Friendly 'Store Design' for Today's customers
17) Vendor Relationship Management. (many Opticians are having issues with their suppliers or vice-versa)
18) Upgradation of Optical instruments
19) Learning and Growth (Store Owners as well as staff)
20) Staff Training Program for freshers
21) Staff retention system
22) Excellent Logistics and Supply Chain
23) Centralized Automated Fitting Labs
.......and much more