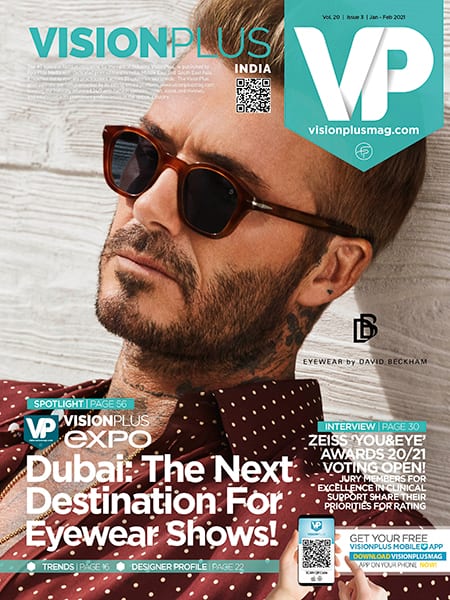 Equipment, Expertise and Experience
What do the jury members of ZEISS 'YOU&EYE' AWARDS prioritise when it comes to judging for Excellence in Clinical Support?
ZEISS 'YOU&EYE' AWARDS – India's only awards programme that recognises the efforts and achievements of the Indian optical retail industry is happy to welcome the jury members for Clinical Support.
Optician can participate by filling up this form : http://bit.ly/clinical-support-form
In the last few years they have helped Zeiss 'You&Eye' Awards choose the best of the best from the Indian Optical Industry. This year too, we join hands with our jury members for the latest edition of Zeiss You&Eye Awards.
The jury on the dais this year are
Aditya Goyal,
Principal, Sankara College of Optometry


Amit Shinde,
Principal, School of Optometry - Bharati Vidyapeeth University, Pune


Amod Gogate,
Director, Gogate Eye Health Consultants


Monica Chaudhry,
Director, Sushant University - School of Health Sciences


Nilesh Thite,
Executive Manager of Educational Programs - IACLE (International Association of Contact Lens Educators)


Prema Chande,
Principal, Lotus College of Optometry
We posed them some questions regarding what they consider important for their rating when it comes to Equipment, Expertise and Experience and here's what they had to say.
---

Prema Chande
Equipment 
Instruments to perform various tests to examine the eyes are extremely important when judging for the Clinical category. Brand and technology are further value additions to whether the eye examination room offers services that are with the latest technology. 
Comprehensive eye examination in optical and optometry facilities is the benchmark here. Other than offering basic refraction and contact lenses services if the facilities can demonstrate that they can offer an assessment of Intraocular pressures, fundus evaluation using non-mydriatic cameras etc. can be useful for rating the clinic higher. 
Expertise 
Qualification of the team that offers eye care services is as important as the infrastructure. If the clinic can have good instruments, expertise to interpret results and offer the necessary service is also important. 
Expertise also includes offering speciality eye care services like Myopia control, eye care services for children, management of dry eyes, vision therapy etc. If the instruments and services listed are included, it will help scoring more points in the rating.
Experience 
The number of years of experience again collectively of the team ensures higher ratings as longer the years in service helps to bring in confidence to the people who seek eye care vision care.
---

Amod Gogate
The year 2020 has challenged all of us as individuals whether as consumers or in businesses. It has made all of us define and adapt to a new way of doing things popularly known as "The New Normal".  As a jury this year in the clinical support category, I look forward to closely getting to know how optical and optometry practices in India have defined, adopted and also implemented the new protocol of delivering their clinical services – keeping in mind the safety aspects of the customers, patients and also the employees. It will be great to see the different steps they may have adopted – especially in new fields of using digital technology in providing telehealth.
Equipment
What change in protocol has been adopted while using the equipment. What new equipment has been introduced by leading brands and have easily had our clinicians adopted them? What is the reaction of their customers/patients?
Expertise
It is too early to see clinicians doing any additional qualifications in the post COVID era, but have some of them studied and adopted protocols suggested by experts from the professional associations? What changes have they done in their clinical protocol of doing an Eye exam, dispensing glasses/contact lenses? Is there a trend to see if recent graduate Optoms have adopted new technology faster than their seniors who may have a higher degree of inertia to change and adopt The New Normal? Is there any change in the range of products they use to sell in the pre-COVID, during COVID and now post COVID situations?
Experience 
More number of years of clinical experience does not always translate to a very talented practitioner. How has the scope of practice changed from doing routine refraction and prescribing glasses versus doing a proper eye examination and providing a range of clinical services in eye care? Is there a different trend in ECPs who are in less than 3 years experience, 3 to 7 years of experience group and more than 10 years of experience group?
The ability to adapt (as per the customer's needs) to change in delivering the right products and services is the key for long term successful professional practice. COVID-19 has really made everyone aware of the need to think out of the box. It has made us think and realise what is really important to each one of us. So it will be great to be able to capture that information from the optical and optometry participants. I am not sure how much information is collected during the data collection step from various participants, but it would be great to see more structured and detailed information is collected and provided to the jury panel. This may bring more seriousness to the competition.
---
Aditya Goyal 
I would be interested in seeing people taking up comprehensive ocular examinations in their clinics and pursuing optometric specialities rather than just refractions.
Equipment
I would say this would amount to 20% in my ratings. Anyone can buy equipment but not put to good use.
Expertise 
This would get around 30%. I Would like to give more emphasis to speciality training.
Experience
This is the most important one for me and it deserves 50%. Nothing beats great experience.
---

Monica Chaudhry
I would like to assess how much of primary care is done  - counselling and referral for basic diseases and awareness about myopia control, diabetic retinopathy, glaucoma and best-advised glasses based on proper recommendation.
Equipment 
Opticians should have torch, pupilometer, frame marking tools, adjustment tools. Optical chair, slit lamp and keratometer if they practice contact lens 
Expertise
I would be looking for a diploma in optometry or at least some hours of formal training in dispensing. I would also like to see some certifications and short courses attended.
Experience
I think less experience with better qualifications can be a higher scorer in skills 
I consider the following as important when you are being judged for Excellence in Clinical Support
Professionalism  - stands as the first rank in my mind 
Communication Skills and Personality 
Honesty and Integrity in work 
Service Quality 
Desire to learn and grow and enhance knowledge with time



---
Amit Shinde
I would be looking forward to the participants being very skilful in taking on tasks which start from welcoming and preparing patients, explaining treatment and updating patient records. Their experience will be judged by the difficulty level of the patients they have handled.
I do feel that equipment matters, but even though someone may not have very sophisticated machines in their set-up, simple instruments if used skilfully can give amazing results. 
It all depends on the expertise based on how much one understands the procedure and the number of times they have used it. 
My rating would be very much based on experience on foot-fall in one's clinic and number of patients handled over the years. In my opinion, experience is the sum total of learning by doing. So just counting numbers in terms of years is not enough. A person who has refracted and dispensed thousands of patients in one year is definitely going to get advantage over a person who has 5 years of experience but lesser practical exposure.
---
Nilesh Thite 
'ZEISS YOU&EYE AWARDS' has always been an exciting event. It is heartening to see that eye care practices are getting acknowledged and rewarded for their professionalism. This time I expect more entries and encourage the participants to take time to complete their submissions and showcase their establishments in the best possible manner. I am looking forward to witnessing the great work and be a part of their journey.
Equipment
The equipment must be covering multiple areas to provide comprehensive eye care with maximum accuracy with the technology expected to be state-of-the-art.
Expertise
Higher and relevant qualifications of the workforce will attract higher points. The number of staff members and qualifications of each of them will be considered.
Experience
The collective experience of all relevant staff members will be considered - the higher the better.