This post is also available in:

العربية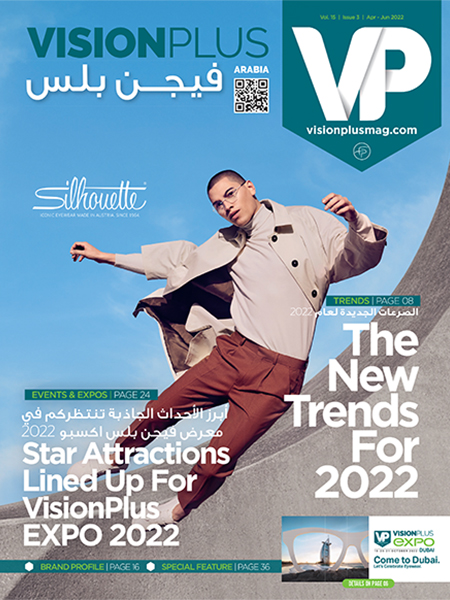 Innovation Is A Key Focus…
Pammi Jamalpuria, VP – Corporate Marketing, Vision Rx Lab talks to VisionPlus about the latest developments, the flagship brand Nova Eyewear and their participation in the upcoming edition of VisionPlus EXPO
Vision Rx Lab is one of the largest ophthalmic product manufacturers in Asia, offering complete eyewear solutions. It has tie-ups with world-renowned lens companies in order to deliver innovative lens products and world-class optometric solutions.
They currently offer a wide range of products including their in-house international brand, Nova Eyewear. The wide category of premium eyewear products from its flagship brand span advanced digital lenses, the latest styles in frames, Rx sunglasses and safety eyewear.
VisionPlus (VP): Nova Eyewear – your flagship brand has been expanding its portfolio. Tell us something about the new additions.
Pammi Jamalpuria (PJ): Well, innovation has always been a key focus for us. Backed by this drive to innovate, Nova Eyewear offers a vast portfolio of premium eye-care products, ranging from advanced digital lenses, fashionable frames, Rx sunglasses, safety glasses to swimming goggles. In the last few months, Nova Eyewear has added several new products to its portfolio - each of these backed by extensive research. Let me give you an overview of these.
Nova Blumax: This is a revolutionary lens material, which helps to provide optimum protection from HEV Blue Light and harmful UV rays. These specialised blue-filter lenses are available in both plano and with power and fits all prescriptions including single vision, bifocal and progressives in all frame styles and sizes, now also available in photochromic range.
Nova Drive: An ergonomically designed customized ophthalmic lens, Nova Drive ensures 24 x 7 driving comfort. A versatile visual solution equipped with the Panoramic Vision Enhancement Technology, Nova Drive lens allows wearers to enjoy extended fields of clear vision while on the road.
This year we have also introduced the concept of Nova Combos. Each combo is a complete package of frames and lenses suited to the needs of vision correction of the consumers. It carries the twin benefits of convenient purchase and convenient pricing.
Unlike the traditional practice of purchasing frames and lenses separately, Nova combos offer the convenience of buying both as a single unit. We also introduced the Nova wedding collection, one-of-a-kind eyewear collection that offers fashionable eyeglasses and sunglasses for special occasions.
VP: Recently you also hosted Nova VMF Global Meet 2021. How was the response?
PJ: The Nova VMF Global Meet 2021 was a one of its kind event. The industry loved it. The event was powered with unique concepts like experience zone with product demos.
Visitors loved the practical demonstrations and the response reiterated the popularity of Nova's products.
We also hosted interactive sessions to explain the benefits of Nova products. We also conducted business meetings to explore new opportunities and possible associations to strengthen our international presence.
VP: Congratulations on Nova Eyewear's Egypt debut. Tell us more about it.
PJ: The success of Nova VMF Global Meet 2021 in Dubai opened up new prospects for Nova Eyewear in the Middle-East region such as in Egypt. On witnessing a growing business interest from the region, the brand launched its vast brand portfolio at the Cairo International Optical Fair, held in March this year.
With its complete product offerings of advance lens designs, materials, coatings, sunglasses and frames along with complete spectacle in its kitty, the brand has been well received in the market and would continue to focus on providing consistent and reliable services in the region to strengthen its business.
VP: Simply having a huge turnout or quality of attendees – what is more important for you as an exhibitor at VisionPlus EXPO 2022? What are your expectations from this year's event?
PJ: The quality of attendees is definitely an important criteria for us. Last year, despite the pandemic, the event witnessed a huge participation from globally reputed brands. We were quite impressed with the way things shaped up.
This year we are looking forward to an even bigger event. Also, with Dubai's centralised location, I believe, our participation will get us good exposure to a global audience. It will positively impact our international presence – which is a key focus area for us.
VP: Some exhibitors are planning to launch their collections in October to coincide with the VisionPlus EXPO. Is there anything specific or new that visitors can expect to see at your booth?
PJ: We will introduce the exclusive product-line from Nova Eyewear at Vision Plus Expo this year. The visitors could look forward to innovations like Nova Colour, the colour management lenses to aid in better colour perception, Nova Pilot, the new specialty lenses designed for pilots and Nova Golf, new-age lenses for enhanced performance at the golf course.
VP: Would you also be participating in the VP Awards this year? In your opinion, how does participation in these awards benefit the brand owners as well as optician voters?
PJ: We would definitely look forward to the VP Awards this year. It is one such award which helps to engage the participating brands with the eye-care practitioners and professionals who are invited to vote for the nominated brands in various categories through interesting communications and promotions.
This way the brands get highlighted across the right target audience and likewise the optician voters become more aware about the new product offerings from the brands.