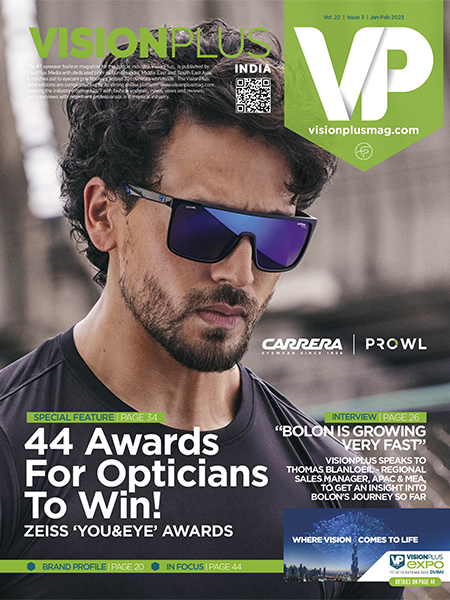 Materials That Make Eyewear Sustainable
In the previous article, we spoke about the entire brouhaha about sustainability and its impact on the eyewear industry. In this issue, Pratik Bhatt takes it one step further by sharing the different kinds of materials used to makeeyewear sustainable.
If one were to look at thebigger picture and list the type of materials used used while making eco friendly or sustainable products then the list would contain Bamboo, Precast Concrete Slabs, Cork, Straw Bales, Recycled Plastic, Reclaimed Wood, Reclaimed or Recycled Steel and Plantbased Polyurethane Rigid Foam.
However all the materials above are not suitable for eyewear. Hence eyewear manufacturers are constantly looking for newer materials and ways to improve their designs, especially when it comes to being more environmentally friendly.
The most common material used to make eco-friendly sunglasses and eyeglasses is cellulose acetate. Cellulose acetate is derived from natural substances like cotton and wood pulp. It is lightweight and can be made in any colour or shape. SALT Optics from USA has partnered with Takirow Rowland from Japan to make its acetate eyewears from cotton & wood pulp.
Apart from this I'll list below a few more options. This list is by no means a comprehensive list.
It's just some of the materials that come to mind when talking about sustainable eyewear. There's a lot of work underway that ensures that newer materials are created or re-discovered.
VEGETAL RESIN
Vegetal resin is durable, flexible, and light. It is made from castor oil, a greener alternative to standard plastic (acetate). Brands like Lacoste are using 40% of vegetal resin to produce their sunglasses. It's indeed great news for someone looking at a greener option to choose an eyewear brand.
M-49 BIO-ACETATE
Renowned Italian acetate manufacturer Mazzucchelli's M49 bio-acetate is a plasticizing solution of vegetable origin. It is a bio-plastic that holds all the aesthetical characteristics of traditional acetate but is made with 68% renewable ingredients.
ESPRIT's ECOllection line also includes models made with M49 bio-acetate, a plasticizer made with natural resources, cottonseed fibre, and wood. M49 acetate can also be biodegradable within115 days
Hexetate
Hexetate is an eco-friendly material that is increasingly embraced by the eyewear industry because it is made with recyclable materials and does not contain BPAs (a chemical compound used to produce plastic). It is a very durable material that is employed in myriad other industries. Its flexibility and scratch resistance make it an ideal component for frames. It's also about 10% lighter than acetate.
Fibrous residues
Fibrous residues come from plants such as hemp, flax, rice, and straw. When combined with post-consumer recycled plastic, it reduces waste and CO2 output. These materials have also enabled organisations to work in partnership with farmers and waste management crews to find alternatives to disposable materials.
Recycled stainless steel
Metal frames made from recycled stainless steel are durable, anticorrosive, and light while providing a sophisticated, timeless look. Botaniq a well-known European brand, has many sustainable materials and uses recycled stainless steel as a product to make metal eyewear.
Recycled Plastic bottles
Making eyewear from
recycled plastic found in ocean debris is another way of making eyewear and thus helping clear marine waste and in the process enrichening marine lives. Today brands like Sea2See and Oceanides, a Spanish startup, are doing some great work making eyewear out of marine waste.
Natural PX and Natural 3D
NaturalPX and Natural 3D are both bio based plastics made from renewable castor oil, opposite to non-renewable petroleum-based resources that are damaging to the environment. At the moment, biobased plastics only make up 0.5% of all manufactured plastics world-wide. So it's obvious that there's still a long way to go in developing and utilising materials that do not deplete the planet's precious mineral resources. Brands like NEUBAU are known to use Natural PX & Natural 3D to make their eyewear.
Wood and bamboo are also considered as sustainable materials, but they require some processing to take on the qualities usually looked for in frames.
Titanium
Titanium can also be considered as a sustainable material, because it does not deteriorate, it can be used forever and is easy to recycle. Due to its high strength and low density, products can be made small and light which avoids the unnecessary use of energy resources.
Other materials
Wood and bamboo are also considered as sustainable materials, but they require some processing to take on the qualities usually looked for in frames. Other natural materials require less processing but also run into problems. German brand Hoffmann Natural Eyewear is known for its use of horn and values the animal product for its sustainable qualities alongside its heritage as one of the oldest frame materials in the world.
Experimental frame materials which emphasise sustainability have been explored recently. Hemp Eyewear, which produces frames made mostly from the quintessential eco-friendly material hemp, have recently launched a Kickstarter campaign to fund its handmade frames.