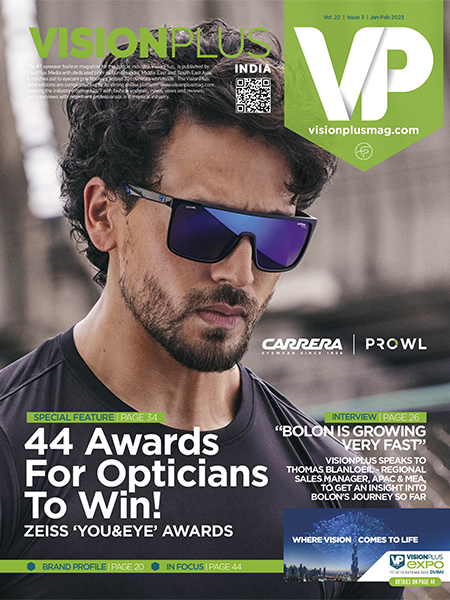 ZEISS 'YOU&EYE' AWARDS : Indian Opticians Looking Forward To The Next Edition
From being a fantastic networking platform to the relevant peers of the industry to celebrating the excellence that industry has achieved – ZEISS 'YOU&EYE' Awards has emerged as one of the most coveted platforms in the Indian optical trade. Each edition has witnessed a soaring enthusiasm, love and encouragement from the optical community
Started five years ago, ZEISS 'YOU&EYE' AWARDS was conceptualised to recognise excellence in the Indian optical trade. The biggest reward that any optician could get is the continued patronage and loyalty of his customers. A twinkle in the customer's eye, a smile, a look of satisfaction and the knowledge that you have helped someone see the world better can bring immense joy. Every optician strives for this when a customer walks into the door. And this is not an easy task. A good deal of patience, planning and efforts goes into this, which often went unnoticed or unacknowledged in the past. The ZEISS 'YOU&EYE' AWARDS continues to change this legacy for the better!
Now in its seventh year, Carl Zeiss and You&Eye magazine have once again joined hands for ZEISS 'YOU&EYE' Awards.
The legacy
Past winners of this coveted platform have included the likes of GKB Optical, Titan Eyeplus, Lawrence and Mayo, Lens&Frames, Himalaya Optical and Gangar Eyenation in the all-India Retail Chains segment, while Laxmi Opticians, Dr Monga Opticians, Phiroze M Dastoor & Co, R Kumar Opticians and Classic Vision have been the recipients in the Boutique Store (Metro Cities) segment. In the Boutique Store (Non-Metro Cities) segment ABC Chashmewale, Weldon Opticians, Mittal Optics and Eyesavers have been among the prominent winners.
ZEISS 'YOU&EYE' AWARDS has since its inception grown to be the most sought after awards in the eyewear retail sector. It has also set new benchmarks for the industry to follow, raising the standards of eyewear retailing year after year.
Why should you participate?
Every year, opticians from across the country have participated and engaged their customers to vote for them. This helps in a two-fold manner.
First, it directly allows opticians to highlight to their customers that they are being serviced by someone who is committed to delivering excellence. It clearly indicates that the optician strived to be the best. This is an important aspect that can't be expressed easily in your day to day business! By simply participating in a nationwide awards programme, the optician will also be highlighted among their patrons. The participation sends out a strong message saying that "we are confident of delivering the best of products - so much so that here we are competing at a national level." Clearly it becomes a matter of pride for the opticians and the customers.
Secondly, when an optician gets a customer to vote, it is a certification of appreciation by the customer and who doesn't like to be applauded by their customers! Can you imagine how many such 'certificates of appreciation' an optician can get just by getting their customers to vote! This engagement also helps the opticians to build a strong level of customer loyalty.
Thirdly, when opticians compete at a national level, the industry grows raising the benchmark.
The seventh edition: How to participate
The seventh edition of the ZEISS 'YOU&EYE' Awards is now open for participation in 44 categories. Of these, there are seven categories exclusively reserved for opticians. Details about the awards programme are available by registering on WWW.YOUANDEYEMAG.COM/AWARDS Even the participation is very easy. All that opticians need to do is choose their category and upload the relevant images/videos/presentations. The nomination from is kept extremely simple and flexible giving opticians a chance to showcase their achievements in the best possible way.
For any queries, users can also write to awards@fourplusmedia.com and our team will get back to you. The last date to submit nominations is March 23, 2023.
---
HOW TO VOTE?
It is very easy for customers to rate their favorite opticians on https://awards.youandeyemag.com. All it takes is a few seconds and it's done. Here are the steps that customers need to follow to cast their precious vote and help recognise their favorite opticians.
Step 1: Every optician has been provided a microsite and it's normally in this format http://awards.youandeyemag.com/name-of-optician. The optician is expected to share this URL with their users to help them to vote. (The users can alternatively simply use the search bar on http:// awards. youandeyemag.com/Just type the name of the optician and the results should appear.)
Step 2: Once the user is on the microsite/webpage of the optician, the popup to vote should appear immediately on a mobile device. On a desktop, they would have to click on the VOTE NOW button.
Step 3: Rate the optician on the basis of the parameters shown. The awards programme is also offering some fantastic branding opportunities that will showcase your brand to the audience that matters. Last year the programme witnessed active participation from over 550 retailers and over a million social media impressions - a testimony to the platform's soaring success. So those interested in reaching out to the right audience should not miss out this opportunity.
Step 4: Most important, remember to submit the vote
The last date to vote is March 28, 2023.
So don't miss this chance! Winners will be felicitated at a gala event in April this year.