The launch was organised in four  key cities of the nation. X Series is the premium lens series by Essilor, designed to reflect 20 years of Essilor's journey…
The launch took place in the form of 20 years of Essilor's journey in four cities, namely, Chennai, New Delhi, Bengaluru and Mumbai showcasing milestones and contributions of the brand to the industry and community.
The event also focused on emphasizing Essilor India's commitment to the mission of improving sight and towards building strong partnership with the ECPs.
Essilor follows certain principles that have been shaping the organisations work process in the world of vision care. Their partnership focuses on mutual growth and profitability. At Essilor, there is a constant strive to innovate and meet consumer needs. The brand's growth drives footfall as well as speedy service is one of the key focus points.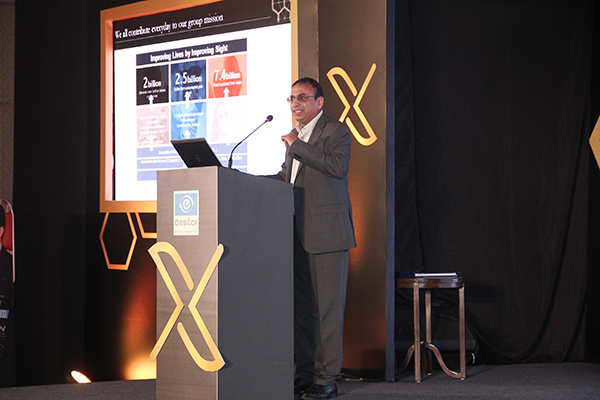 In order to evolve consumer lifestyle, Essilor focuses upon Correction, Protection and Prevention. They have brought in change and revolution in the way lenses are dispensed nowadays with a range of instruments from PD Meter to Eye Partners Bringing Precession and Accuracy in measurements. They have also strived towards enhancing the customer experience in-store. Essilor has also been taking many co-branded initiatives towards customer conversion with innovative inventions.
Essilor has been the first to engage with trade at various platforms like Educational Trips Abroad, Innovative Product Launches and a number of awareness initiatives like Eyecare Camps, World Sight Day Celebrations and Social Media Campaigns.
About the event
The prelude to the product reveal was the Theme of the event – X Factor, inspiring ECPs to overcome hurdles in business. This was to drive a key message towards the ECPs of Progressive lenses being the X Factor to beat competition. And also to increase share of business, With X Series Essilor has added to this X Factor and boost their business growth.
The product was revealed in a manner of a life-changing story with relatable experiences like meetings turned into video calls, books replaced to e-books and more. This explained the need for vision care and new near vision technique.
International speaker Mr. Colin Madigan, Director Professional Services and Education (AMERA) explained the product details during the launch with relatable examples that enable the ECPs to confidently pursue their customers.
The 'Marketing' was the last segment of the event which commenced with a message from Mr. Sourav Ganguly the brand ambassador for Varilux in India, the journey of the product from the lab to an Optical store and End Consumer.
The event was attended by 800 guests inclusive of 525 ECPs across PAN India.