British Indo Pacific Ortho-Keratology Myopia Control Academy (BIPOK), and Masterclass Optometry, organised a successful Vision by Design 2019 Conference
The international conference hosted at Renaissance Convention center, Powai, Mumbai, from Sep 6-8 2019, brought together over 225 delegates, speakers and students from a wide range of disciplines all over the
world. The participants were a blend of practicing Ophthalmologists, Optometrists, academicians, researchers, students and personnel from the corporate sector. The blend clearly reflected the growing interest in learning the skill of fitting techniques in all areas of Myopia Control and prevention, including corneal reshaping.
The conference offered a good blend of plenary sessions, workshops, scientific presentation and panel discussions. While the theme of the conference was "Myopia Control", a number of sessions also dealt with topics like ethics, law, patient counseling & education, fitting philosophies, troubleshooting and product knowledge. The keynote speakers, too, represented disciplines from all around the world.
Vision By Design, India 2019 witnessed 12 international
experts and 8 Indian speakers share their knowledge and experience.
During the inaugural plenary, Mr. Yeshwant Saoji and Mr. Nilesh Thite, took the audience through "The current scenario of practice in India" and "The game changers of Contact lens practice" respectively. This was followed by an eye-opener session conducted by Dr. Cary Herzberg from the USA, on "Myopia Control-where are we?" A very interesting and thought-provoking panel discussion led to clearing many doubts amongst the audience. Dr. Randy Kojima gave an elaborate talk on corneal topography, its detail interpretation, and application for Orthokeratology. Mr. Rajesh Wadhwa added to the ethical and legal aspect of Myopia control and gave a holistic approach towards dealing with a patient. Myopia control alone cannot be treated fruitfully if we do not take the binocularity of the patient into consideration; this was very well explained by Dr. Rizwana Hussaindeen.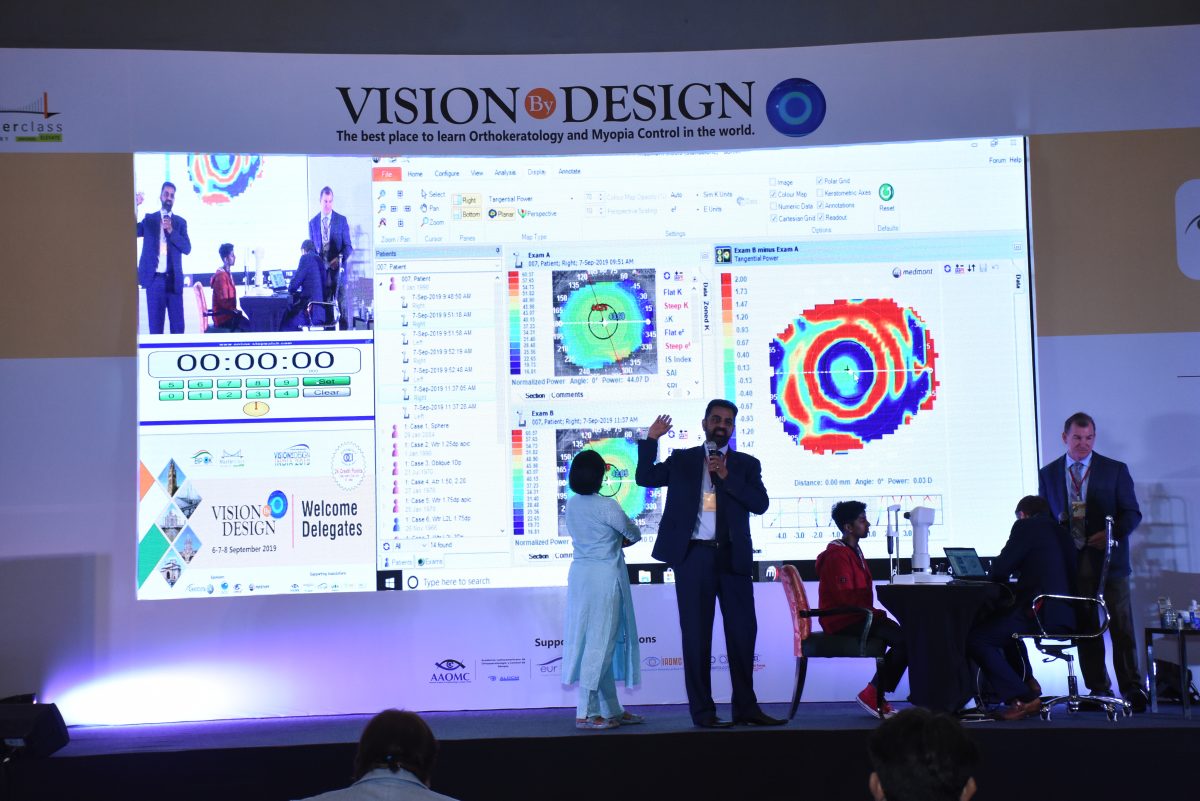 Dr. Nitesh Barot and Dr. Mathew Martin gave a "Classic "kick start to the fitting approach of Orthokeratology. Thus Day 1 ended, covering a 360-degree aspect of how and why myopia control is important and how to incorporate it in practice. The second day began with an interesting demonstration session conducted by the platinum sponsor, Contex. They fitted Orthokeratology lenses on live patients and gave a comprehensive explanation on lens selection, fitting assessment and post fit effects. Interestingly, even delegates volunteered to try lenses on them. Later Dr. Chris Eksteen spoke on the nightmare of every practitioner, "Troubleshooting of Orthokeratology lenses." Another engrossing workshop was
then conducted by GOV lenses who were also the platinum sponsor of the conference.
Dr. Sami El Hage, from the University of Houston, gave a very interesting lecture on Orthokeratology and C3R. Talking about Orthokeratology, how could we forget about Soft lenses, Dr. Somi Oh presented a brainstorming presentation on Soft lens and Myopia Control. The day ended with an enthralling lecture of Dr. Arthur Tongue, Ophthalmologist from Taiwan on Rehabilitation of the
altered corneas.
After an action-packed Day 2, the third day started with a bang. An interactive session was conducted by GOV and Contex for all the delegates and students where they could do the hands-on by themselves. What was surprising was inspite of being an early morning rainy Sunday the workshop received an overwhelming response from delegates. Scleral lenses are also a crucial part
of fitting specialty contact lenses. The final day was dedicated to scleral lenses. Mr. Prasad Sawant and Dr. Randy Kojima enlightened the delegates with 'scleral lenses and their fitting philosophies' and 'Fitting scleral lenses in keratoconus' respectively.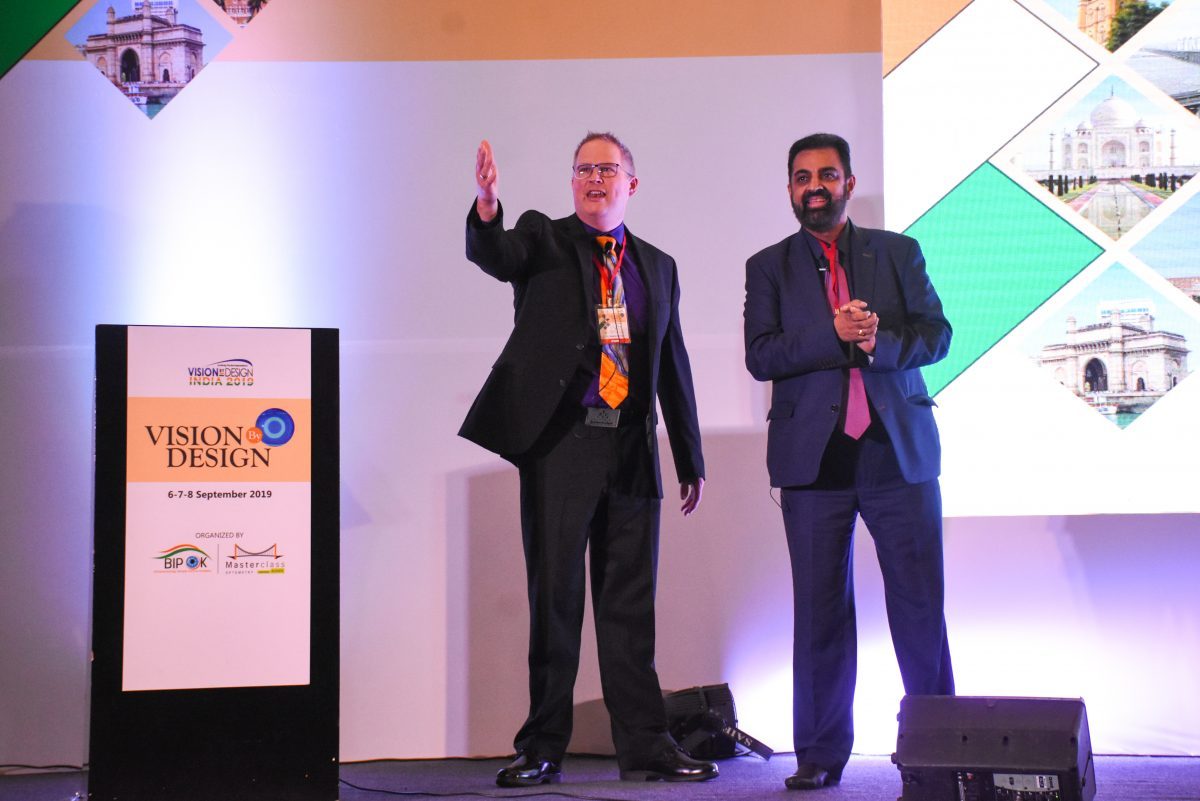 Dr. Quresh Maskati, a renowned ophthalmologist from Mumbai not only attended the conference with complete zeal but also briefed the audience on how to manage Ocular surface disorders with Scleral lens. Dr. Chandrashekhar Chawan, an Optometrist cum Ocularist took them back to the era of Impression molded contact lens and Dr. Nathan Schramn showed a glimpse of the future with the 'Latest Advancements in Contact Lens.' After lunch, an interesting scleral lens fitting workshop was conducted by Dr. Chandrasekhar Chawan, Dr. Nathan Schramm and Dr. Julie Abraham.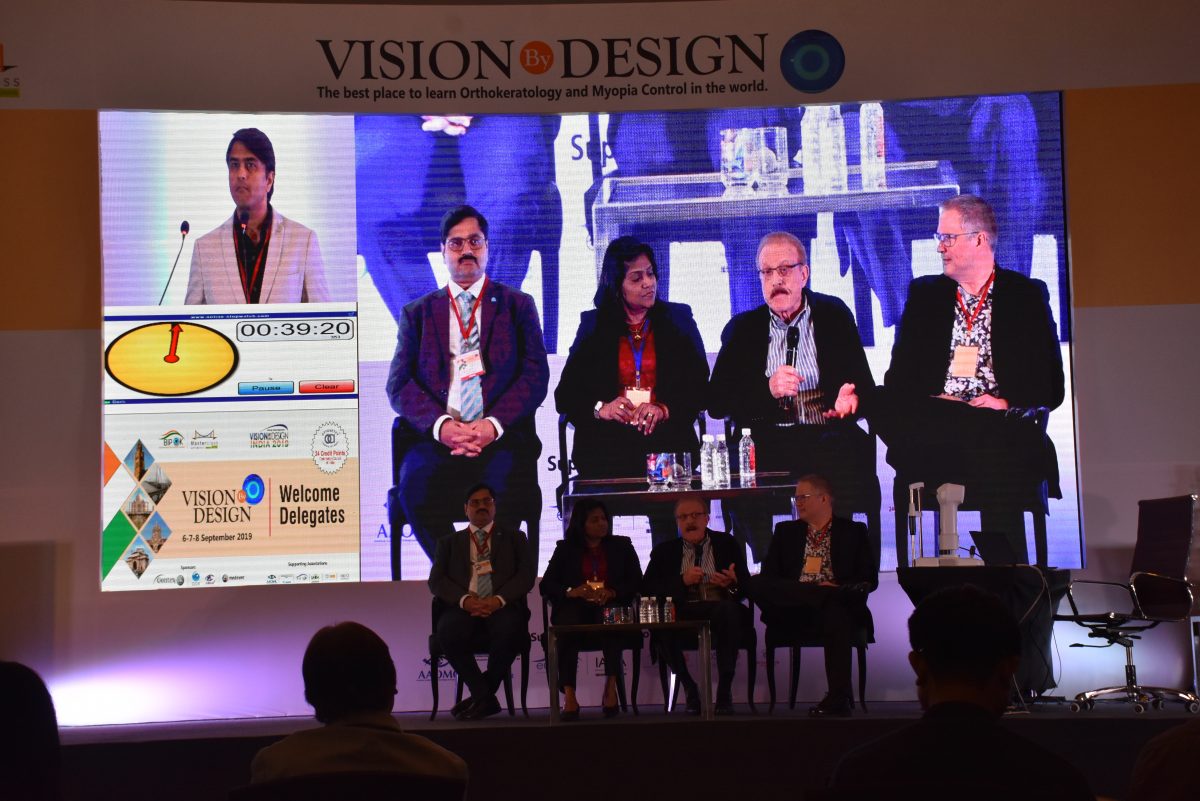 It always feels like all good things in life end early, so did the exhilarating 3days of the conference. The next challenge was to practically apply all the knowledge gained to practice. The Delegates and students went back to their practice energized and highly
motivated with of course lots of good memories. The Conference ended with a formal acknowledgment to all, starting from speakers, delegates, sponsors, volunteers, administrative staff, technical department and also the hotel staff. All in all, it was a very memorable event. The delegates were overwhelmed with the knowledge of the speakers, quality of their talks and overall arrangements of the conference. Their satisfaction was evident from their feedback and even more from their smiling faces.