This post is also available in:

العربية
Bausch+Lomb traces its roots back to 1853, started as a tiny optical goods shop in Rochester, New York by a German Immigrant named John Jacob Bausch, now being one of the oldest operating companies in the US today
The story looks back in time at how every remarkable venture first needs to go through a whirlwind of shortcomings only to reach the pinnacle and create a glorious history as their winning trophy. Likewise,  BAUSCH + LOMB was introduced to the world at the time when John Bausch was in need of money to keep his small business going and asked his good friend Henry Lomb for $60, promising him that if the business grew, they would turn in to partners, and hence BAUSCH + LOMB was crafted.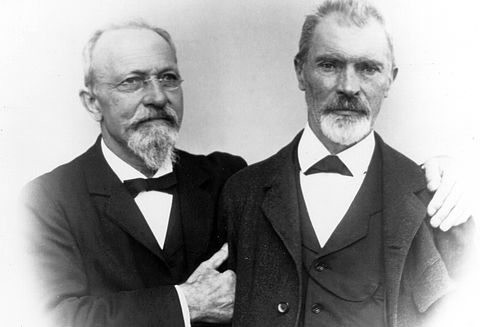 Initially, B+L stepped into the market with manufacturing revolutionary rubber eyeglass frames and optical products that required high degree of manufacturing precisions highlighting their expertise and focus.
In the 1900's, B+L continued to uphold its place at the forefront of technological innovation for optical products. The company's "Significant Inventions" list includes first optical quality glass made in America, development of ground-breaking sunglasses for the military in World War I, and creation of the lenses used on the cameras that took the first satellite pictures of the moon.
By 1903, the company saw patents for microscopes, binoculars and even a camera shutter based on the eye's reaction to light. In 1971, Bausch + Lomb introduced the first soft contact lenses and is still one of the largest global provider of eye care products.
Company Structure
Undeniably, the products and times may have changed, but Bausch + Lomb still believes in the legacy of dedication to innovation, quality, and craftsmanship established and instilled by its founders John Jacob Bausch and Henry Lomb.
In August 2013, Bausch + Lomb was acquired and became "the eye health & vision care" division of Valeant Pharmaceuticals International, Inc. – a multinational specialty pharmaceutical company that develops and markets prescription and non-prescription pharmaceutical products that make a meaningful difference in patients' lives.
Currently, BAUSCH + LOMB operates in 42 countries across the globe.
BAUSCH + LOMB technology and products
Research & Development – ULTRA
Contact lens comfort has been a dominant focus of the contact lens industry over the last decade.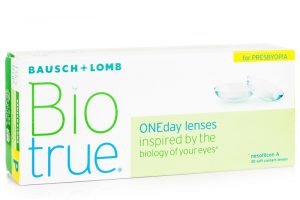 Having "lens discomfort" believed to be a main contributor to contact lens drop out, manufacturers have developed advances in lens materials and surface technology in an attempt to maintain the current market of contact lens wearers.
Today's contact lens wearers battle significant challenges to comfortable lens wear. People of all ages spend a significant amount  of time viewing digital devices every day. This has created an epidemic of reduced blink rates due to extended periods of time eyes are concentrated on a screen. The  increased exposure of the ocular surface and the contact lens surface create challenges to maintaining hydration and wettability throughout the day, resulting in reduced comfortable wearing times.
Addressing  the SiHy Challenge because  silicone is a naturally hydrophobic material, some silicone hydrogel (SiHy) materials can have surface non-wetting that can lead to symptoms of blur and discomfort. To allow for surface wettability, SiHy lenses  need  to  incorporate  some degree of chemical alteration to allow for adequate compatibility with the ocular surface.
The  Bausch + Lomb Ultra lens addresses this challenge by surrounding the  silicone-based lens infrastructure  with Poly Vinyl Pyrrolidone (PVP), a naturally hydrophilic substance. More importantly, the lens  is able  to  maintain  its moisture level effectively throughout  a typical wear cycle of 16 hours. In addition, the Bausch + Lomb Ultra lens utilizes a unique combination of both long and short chain silicone polymers. This results in excellent oxygen transmissibility (DK/t 163), but also a low modulus of 70.
These innovative lenses are developed with the moisture seal technology which helps the lens maintain 95% of its moisture for full 16 hours.
Results from an online survey in the western market,  indicate that 9 out of 10 patients agree that BAUSCH + LOMB ULTRA contact lenses help relieve their eyes from feeling dry and tired after a long day of looking at digital devices.
Results of an online survey with patients that wore their lenses for 7+ days and on average, wore their lenses for 8 or more hours a day (n=485). Survey questions were top 3-box scores (% Strongly Agree, Agree, Slightly Agree) on a 6-point agreement scale, with a margin of error +/- 2.4%.
Looking at ULTRA's strong presence in the western markets, it is soon to be launched in the Middle East markets.
A Daily Disposable  Option – Biotrue ONEday lenses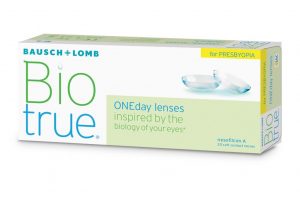 The  Bausch + Lomb Biotrue ONEday lens is a single-use lens that  also takes advantage of a substantial PVP concentration to maintain good wettability. In the lens, the water-loving nature  of PVP allows the lens to obtain a 78% water concentration, the same level as the cornea. This biocompatibility provides stable interaction  between  the  cornea  and contact lens. The  lens surface also contains Poloxamer 407, which creates a dehydration  barrier  at  the lens surface to provide enhanced moisture retention throughout the day. Also, the neutrally charged lens provides surface integrity that  can provide a stable lens performance.
BAUSCH + LOMB Material Innovation
Contact lens wearers demand high performance from their lenses.
They desire a comfortable lens with crisp optics that provides good eye health and  good comfort throughout  the entire day. BAUSCH + LOMB's innovative material science that incorporates maximal PVP concentrations into the lenses, provides unique opportunities for eye care practitioners to meet their patients' needs with enhanced wettability and moisture retention, and  deliver the performance that patients desire.
Multifocal daily disposable lenses – Biotrue ONEday for
Presbyopia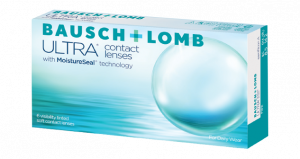 Biotrue ONEday for Presbyopia is a multifocal contact lens that uses an aspheric, simultaneous vision design. Like BiotrueONEday, this presbyopic lens uses bio-inspiration to meet the oxygen level that the open eye needs, mimics the lipid layer of the tear film using a surfactant enriched lens surface to minimize dehydration, and matches the water content of a healthy cornea. This multifocal lens provides comfortable vision throughout the day and across all distances.
Its 3-zone progressive design has a targeted zone for each of the vision needs – Distance vision, intermediate vision & near vision. Research studies suggest that 89% of daily disposable patients say Biotrue ONEday lenses are comfortable throughout the day. 
And 85% of daily disposable patients say Biotrue ONEday lenses help eyes stay moist throughout the day.
The range of products from Bausch+Lomb are not only superior in quality but have marked to be successful in the industry since years. The journey of John Bausch and Henry Lomb has been remarkable that left a legacy behind.