This post is also available in:

العربية
If the thought of recycled eyewear puzzles you, this is the perfect opportunity to familiarise yourself with the next big trend that could be the game changer for your business…
The consciousness about the limited supply of gifts from Mother Nature is growing at an astonishing pace with more and more people realising the importance to recycle and use. According to the basic definition, recycling means converting materials that have been discarded as waste into something re-usable.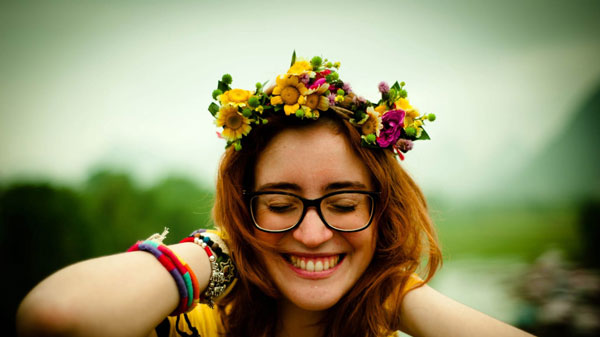 Recycling started as an obsession for those who wanted to make the most of the available resources. But now it has evolved into a major trend (surprisingly not just in business but in fashion too!) affecting many industries including eyewear. In fact, recycled eyewear is fast emerging as the next big fashion trend in the eyewear domain.
Sustainability: An Eye For A Concept?
Sustainability is the new mantra and the eyewear industry and leading brands across the globe have some really interesting offerings lined up in their portfolio. The eyewear industry has gradually realised the problem that may have accidentally flourished right below their noses. Just like many other industries, the eyewear industry has grown considerably in the last ten years. But so has its problem. Yes! With the growth, the generation of waste in the industry has also gone up. Sadly, this waste often falls into the category of non-biodegradable which actually products discarded by the industry are likely to harm our beloved Mother Nature.
Over the years, this continuous abuse of the precious resources that Mother Nature possess has already caused a lot of harm.  As a solution, the situation, industries across the globe are embracing the concept of sustainability, wherever possible. Eyewear industry is no exception to this global trend. And so the popularity of recycled eyewear is all set to grow along with its loyal fan following.
In fact, when it comes to eyewear, one is likely to come across two methods of recycling-making eyewear out of recycled materials like paper, wood, etc. and recycling eyewear for reuse. Optical surfacing labs in many parts of the world are already into recycling their toxic waste, broken lenses, demo lenses, plastic bags, broken eyeglasses, among other things.
Simultaneously, this smart innovative and intelligent move by the eyewear industry is also being viewed as an effort to be a more responsible citizen in safeguarding the globe. After all, this change will help in decreasing carbon emissions by being eco-friendly, and reduce the global waste considerably.
The Fashion Debut
The popularity of recycled eyewear has grown considerably in the last few months. This is evident from the increasing number of brands that are foraying into the category. Various leading brands like MODO, Paperstyle and many others have launched exclusive collections based on the eco-friendly theme in the recycled eyewear category.

The recycled eyewear category may have debuted recently but the concept has been garnering momentum for quite some time. For the eyewear fashion enthusiasts, the good news is that recycled eyewear or the eco-friendly option is available in both categories-optical as well as sunglasses.
The Advantage Of Recycling
Before we narrow down to the advantage of recycled eyewear, let's start with a brief overview of the concept of sustainability. For starters, recycling means reducing the waste discarded into the earth. This automatically means reducing the carbon emission to safeguard the future generations against environmental hazards and catastrophes. This simply means sporting an impressive style statement with the eyewear worn and at the same time doing your bit for the environment.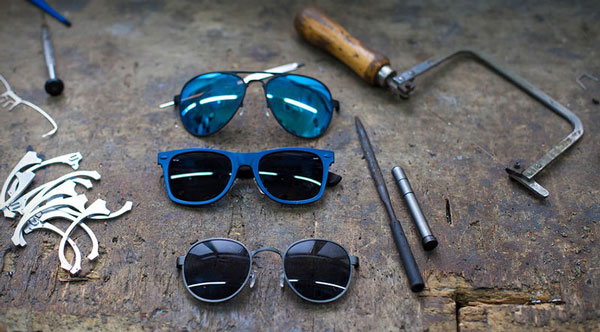 Recycled eyewear or eyewear made from materials that can be recycled is environment-friendly. Another advantage of recycled eyewear is that it kind of simplifies the problem of sourcing the raw materials for the eyewear manufacturers. Eyewear in this category is gradually emerging as the ethical choice for the customers who are conscious about the welfare of the environment that surrounds them. And why not! In spite of being eco-friendly, there is plenty of choice when it comes to recycled eyewear. So the customer that chooses to opt for this type eco-friendly eyewear does not need to compromise on their style statement. In fact, in the next section, we will take you through some such impressive offerings by leading brands that have been setting new standards in the category of the recycled eyewear.
From Trash To Treasure!
Here is a look at some brands that have come out with some really impressive designs in the eyewear category:
Taking the concept of eco-friendly eyewear to a whole new level, MODO has an impressive collection in this category. In fact, the brand's mission to adapt to more sustainable ways continues even after the eyewear is sold. For every frame sold, MODO team plants a tree. Indeed an impressive way to give back to nature!
As a policy, they also encourage customers to donate their unwanted eyewear and reuse the packaging as well.  As part of its Fall /Winter collection, MODO introduced six new styles in various colours in the eco-friendly eyewear category. The highlight of the collection is the of acetate/metal contrast to create mesmerising wooden textures. BUCHAREST, a soft feminine frame, a part of this collection stands out with its impressive colour palate. Another option for men in this collection is KIEV. The oversized frame with brow lines is an ideal option for men who want to sport that oh-so-urbane look.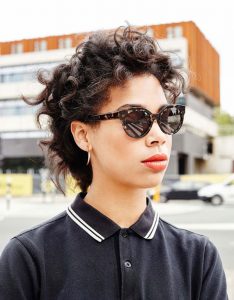 Dick Moby, a Netherlands based company is also coming up with some good options in the recycled eyewear category. Their black frames are made of 97 percent recyclable materials.
Shwood, an American brand of sunglasses and eyeglasses, has also introduced many collections inspired by the offerings of Mother Nature. For instance, they have wood sunglasses. In these sunglasses, the wood manipulation is kept to a minimum in order to showcase the medium's natural and unique splendor. They also specialise in eyewear made from resin-casting technique using natural elements.
Another brand known to offer an impressive collection in the recycled eyewear category is Paperstyle. Their eyewear boasts of minimalistic designs encapsulating iconic styles. The stylish frames are made from natural elements like paper, wool/loden and leather, finished in a patented process and handcrafted into unique frames. For instance, one of their models – Auril is made from paper. Featuring a full rim design and a round frame shape, this stylish eyewear is lightweight and extremely comfortable.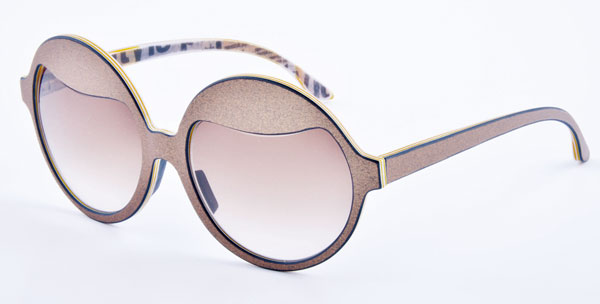 Even SOLO eyewear has stylish sunglasses as part of its recycled eyewear collection. Each pair of their sunglasses is made with repurposed and/or recycled materials and once purchased, each pair funds eye-care for people in need. So far their initiative has helped in restoring vision for over 13,000 people across 32 countries. They also have sunglasses made from recycled plastic.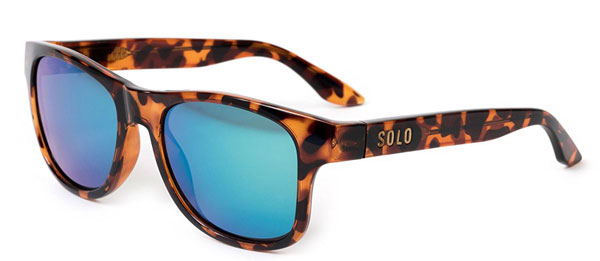 They also use their scraps to create the SOLO logo on our frames in the recycled plastic collection. This collection features a 20 percent recycled blend of TR90 plastic for the frames and a 20 percent recycled blend of Cellulose Propionate for the temples.
One Concept That Can Change Lives!
Founded in the year 2012, by Martin Aufmuth, these glasses are aiming to provide individually customised glasses at affordable prices. These consist of lightweight, flexible and stable spring-steel wire with coloured beads and shrinkable tubing that gives them a unique, individual design. The material costs for a pair of glasses are around 1 US Dollar (including wire, lens, shrinkable tubing and beads). The pre-cut lenses consist of polycarbonate with a hardened surface and are break- and scratch-resistant. Made from polycarbonate, these glasses are extremely affordable and reusable.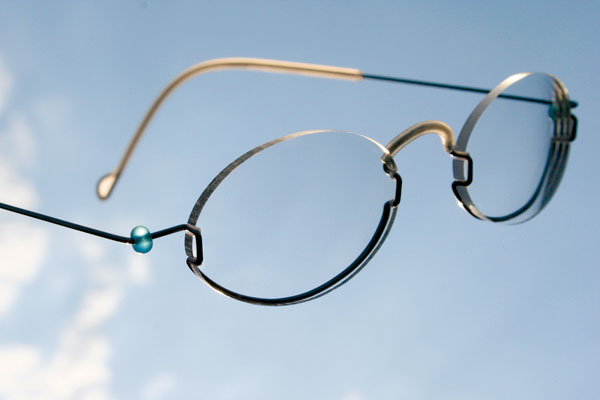 Clearly, the market for recycle eyewear is guaranteed to evolve further with more and more people realise the need for sustainability. And with such impressive styles, the fan following is only going to grow stronger by the day!