Sports sunglasses are more than just another eyewear accessory, in fact, they have evolved to become a fashion statement. Here's presenting brands from around the world with their collection of sports sunglasses!
Sports sunglasses are no more the boring ones that people usually wore only when they were on the field, enjoying a game. If one is looking to put a twist on their workout style, sports sunglasses is the accessory that will do the job! So here is all that you need to know about sports sunglasses to impress your customers.
An oft heard saying is that 'sports' is not about fashion and style and but more focused on the capacity as well as function. However, these days it can be a combination of fashion and function. Yes! A fusion that motivates the wearer to look good as he or she enjoys the game.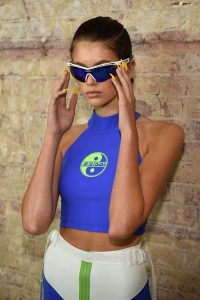 Sports sunnies usually come in many shapes like rectangular, oval, wraparounds, etc. , all of which are perfect for most face types. Before we delve deeper, let's look at the evolution of sports sunnies. The eyewear segment continues to evolve from being regarded as just a vision aid to a fashion statement that serves the purpose of safeguarding the vision health as well.
However, sports sunglasses have experienced a relatively slower pace of progress.
First things first, the sports sunglasses came into existence as an off shoot of the traditional sunglasses.
However, the first documented proof of this idea dates back to the roman era when emperor Nero wore gemstones over his eyes while watching a sporting event. All the effort was to prevent the harmful rays of the sun from hindering or damaging his vision.

While Nero may have sown the seeds of the concept of sports sunglasses, its usage gained popularity much later. Somewhere around 1960, the cyclists started relying on a differently designed sunglasses while participating in races. These glasses were even dubbed as flying goggles. They served a simple purpose, to keep the grit out of the eyes and of course provided the required vision correction. Ever since, the sports sunglasses have indeed come a long way.
Opticians To Gain
Sporty sunnies are a perfect pair for any workout clothing. Whether you are a morning runner or a tennis player, these sunglasses will put your style into a spin. These sunnies go well with any type of sporty footwear- from ultra-cushioned oversized soles to high-intensity sneakers and flats with a platform. It is best to opt for color contrasts. Sometimes unusual colour combinations look super cool. Simply put, an optician has a huge customer base to target when he or she opts to stock up sports sunnies.
Sports sunglasses are a must-have indispensable accessory in sportsman's gear, in fact, in some sports, the choice of sunglasses is considered as a factor that differentiates the athletic career of professionals from amateurs. This is basically the type of people you can target for your stock of high end sports sunglasses. Having said that there is something for everyone in the sports sunglasses category, i.e. everyone who aspires to sport a stylish statement with their appearance.
From the fit to flexibility, you will be surprised how leading brands are actively promoting their offerings in the sports sunglasses segment. Indeed, this is the trend of the season and you would not want to miss out on this opportunity to encash it, would you?

Carrera

Full of qualitative features; from the hinges to the lenses to the mix of materials, this Carrera collection represents the brand's evolution into the modern world of sports and fun. Style 5046/S sunglasses are enriched by textured EVA side shields and curved temple tips for maximum comfort when on the move.
Wiley X

The protective eyewear brand has unveiled active lifestyle series which gives wearers all kinds of durability during any activity throughout the day. The model WX Hayden (ACHAY06) features a more squared off lens shape and is available in two models to accommodate different looks and purposes. This polarized model provides wearers with advanced glare-cutting performance and distraction-free vision when worn on or around the water, snow, highways and other highly reflective environments.

Polaroid

Polaroid's 2018 collection features the fit-to-style with every sports attire collection. The model PLD 2064/S has a sporty attitude as the models are all wraparounds. Characterised by the soft, texturised rubber-effect on the temples in the design of Polaroid's signature pixel pattern. Mirrored lenses and bright hues highlight the glasses' fresh, vibrant vibe.