How to participate in the ZEISS 'YOU&EYE' AWARDS 2018? Where is the event being hosted this year? Get all your answers in one place!
Here's an opportunity for you to win, yet again! It's time for ZEISS 'YOU&EYE' AWARDS, the only one of its kind that felicitates the achievements of the opticians all across India. YOUR DRIVE FOR EXCELLENCE WILL BE REWARDED. It is time for you to use this platform and shine. As an optician, you are your customer's friend. Make the most of it, make your customers raise your confidence as you have raised the standards of service in the optical retail!
This time, all the information you need is in one place. The ZEISS 'YOU&EYE' AWARDS website. It has answers to all your queries. The website will show you details on last year's entries, it will guide you through the process of participation and not just that, you can visualise yourself with that trophy when you check out last year's highlights!
This is an initiative by FourPlus Media, and you can be assured that the selection process of the awards would be on an unbiased platform for every optician, irrespective of whether they are a single store practicing in a remote area or a national level retail chain… the awards are structured to ensure everyone gets a fair chance to participate and win.
This year as well, ZEISS 'YOU&EYE' AWARDS would be giving out gifts to the lucky voters in the 'Vote and Win' campaign! So you have the chance to make your customer win too, as they vote for you!
Besides the entries repeated from last year, we are equally excited to welcome our new optical friends.
All you need to do is register on YouAndEyeOnline.com and upload images/videos/presentation in the relevant categories. For more details check our website
http://zeiss-youandeye-awards.fourplusmedia.com
So go ahead. Submit your entries. Get voted. And win!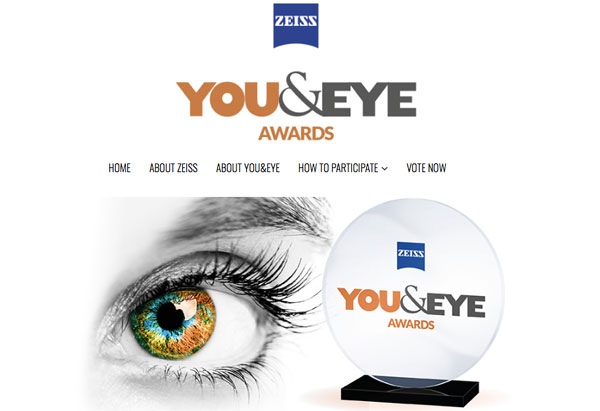 Entries received will be made available for online voting through YouAndEyeOnline portal. Based on the votes gathered by each participant, winners will be announced in a grand ceremony! The categories for the optical retailers are as follows: Best Store Display & Design; Excellence In Customer Service; Excellence In Clinical Support; Best Marketing Initiative and Best CSR Initiative!
The best part is that everything is made available to you at your fingertips in just a few clicks.
---
Chashmish Eyewear Studio, Ahmedabad
Dr Monga Opticians, New Delhi
Mittal Optics, Aurangabad
Titan Eye Plus, Bangalore
R Kumar Opticians, Ahmedabad
Hardev Opticals, Gurgaon
GKB Opticals, Kolkata
Dayal Opticals, New Delhi
Classic Vision, Mumbai
Perfect Optics, Surat
Lens N Frames, Ernakulam
A Dinshaw & Co., Pune
Eye Savers, Hubli
Lawrence & Mayo, Mumbai
R Kumar Opticians, Ahmedabad
Weldon Opticians, Chandigarh
Mr Rajanikant Turakhia
Dr Vipin Buckshey


Who is it going to be this year?