Versace Fall/Winter 2017 collection is characterised by high-end materials and fashion-forward details. Strength, loyalty and power are the key words of an eyewear selection that calls upon and stands next to the Maison legendary aesthetics and spirit
VE 3250
This stylish frame features a feminine oval shape with slim profiles and, three small glass Medusas in tone-matching colors on the temples. Innovative 'stained glass' colour effects give this style a playful pop of contemporary colour. Available in two sizes, this model comes in dark Havana, transparent violet or transparent light brown, and black.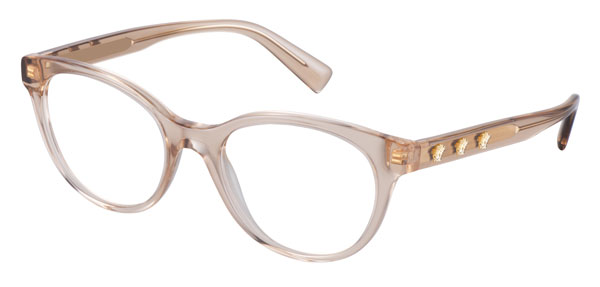 VE 3252
Bold shapes with distinctive details profile typify this man's urban style. Elegant and timeless, this Versace model features an acetate rectangular profile with a keyhole bridge and Medusa details on the metal temples. Available in two sizes, this style is offered in a rich palette of coloured fronts and metallic temples: dark Havana with black temples, green with dark silver temples, blue with gunmetal temples, black with pale gold temples.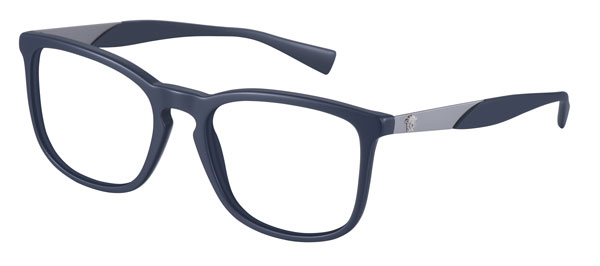 VE 3254
Deep color combinations and unique intersecting motifs create a sophisticated new visual concept of masculine glamour: the 3D 2-part interlocking metallic Greca 'Tetris' motif. The rectangular frame in acetate further enriches a model offered in classic black or dark Havana and contemporary bi-colour frames: green with matte grey temples or blue with black temples.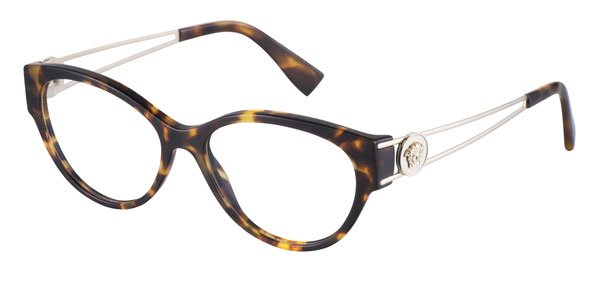 VE 4344
This daring acetate cat-eye sunglasses from Versace are enhanced by three iconic Medusa décors on the temples that perfectly match the lenses' shades: proposed in a brand new stained glass color execution and subtle shiny-matt contrasts, these décors boost the dark profiles and mirror shades of a bold, modern silhouette. Available in striped Havana with brown gradient lenses and black with lilac, light brown mirror gold or grey lenses.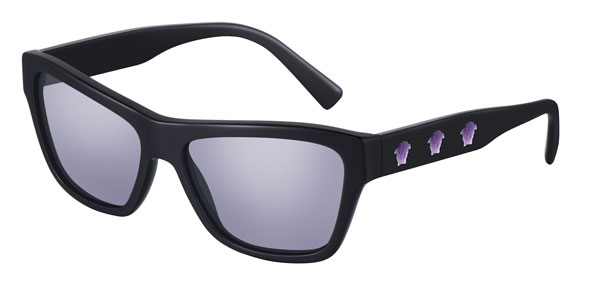 VE 2185
This round metal rim sunglasses feature a captivatingand bold look. Shining through transparent acetate temples, the embossed Greca key metal core and the stylish nylon fiber rim circles enrich a profile that is totally Pop Chic. Adjustable nose pads and eye-catching metal corner details complete a stunning look available in pale gold/black with crystal temples, dark silver/petroleum with transparent petroleum temples, dark silver/transparent lilac with transparent violet temples, pink gold/Havana with transparent brown temples.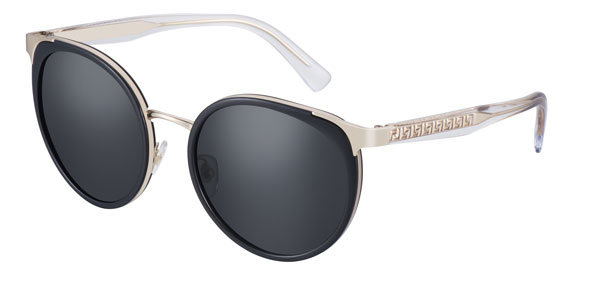 VE 4346
This men's acetate pilot model features striking and innovative details. An exclusive 3D 2-part interlocking metal Greca 'Tetris' motif matches with contemporary mirror shades and unique colours. Available in black with grey lenses and gold/silver Greca 'Tetris', Havana with brown lenses and a full gold Greca 'Tetris', green with matte grey temples and light brown mirror gold lenses with a gold/gunmatel Greca 'Tetris', blue with black temples and grey mirror silver lenses embellished by a matte black/gunmatel Greca 'Tetris'.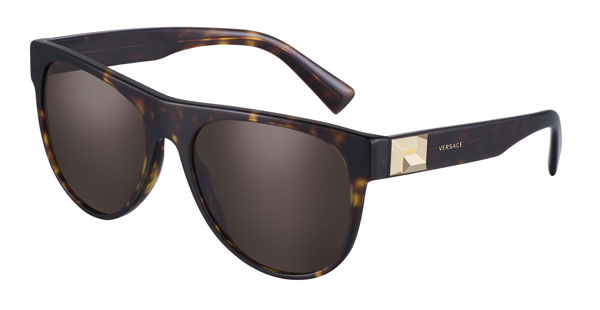 VE 2183
A squared rimless shape and a metal double bridge define this edgy men's style, characterized by shiny metal overlays and clean-cut lenses. The new metal Medusa appears on the temple of this iconic model offered in metal colours with classic solid shades: gunmetal with green lenses, pale gold with grey lenses, black with light mirror green violet lenses, matte black with mirror red multi-layer lenses.