American brand Tommy Hilfiger eyewear has extended its support to India's only awards programme that recognises the efforts and achievements of the Indian optical retail industry
Tommy Hilfiger's eyewear license partner for India, Sterling Optics has signed on as a co-partner for the upcoming ZEISS 'YOU&EYE' AWARDS 2019
The brand, which has a monumental following among the opticians as well as consumers in India, is a perfect match for the awards. The dynamic duo, Mr. Ketan Parikh and Mr. Amit Parikh of Sterling Optics have made Tommy Hilfiger one of the most popular eyewear brands in its segment.
Mr.Siraj Bolar of FourPlus Media says, "The support of the Industry is very important when it comes to initiative like the ZEISS 'YOU&EYE' AWARDS. While ZEISS has been the title partner right from the beginning, we've had Cali4nia, Carrera, Polaroid and Silhouette come in as co-partners in the past. This year we have Tommy Hilfiger coming in as co-partner. It's great to see this kind of support from the industry. I believe the opticians have earned a right to this."
The awards finale event, featuring a fashion show this year, is expected to be aired on some of the key national television channels of the country.
The winners, based on the voting by consumers and subject experts in relevant categories, will be announced on Nov 24, 2019 in New Delhi.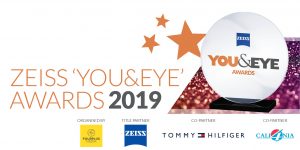 ZEISS 'YOU&EYE' AWARDS registration is currently underway with opticians joining in huge numbers. The Vote&Win campaign for consumers is scheduled to start on Aug 15, 2019.
Stay tuned.