This post is also available in:

العربية
The first generation to enjoy technology and this digital age – the Millennials – are truly a never-seen-before bunch. More than a buzzword heard on the news millennials are a part of a world where everything is fresh and distinct
Often referred to as self-centred, technology-obsessed, or entitled no one has truly understood millennials. The biggest generation in terms of size, a millennial would rather believe authentic facts than the information given via word of mouth. Always about expressing themselves and not holding back, millennials support products, trends and brands that allow them to fully and truly express themselves. Even though millennials made the age of filters, they prefer to express themselves without a filter. Millennials, the up-and-coming generation of the world, has the power to transform the world into a better place. Whether it's through international political reform, building the first-ever global economy, discovering the cure for cancer or working towards saving the world they are a generation of people who are extremely unique and have a fresh take on everything. This makes every trend set or accepted by millennials intriguing and everything that is not traditional. Let us have a look at some of the unique kinds of eyewear millennials play with.
Let's hide that side-eye
(The in-your-face oversized frames)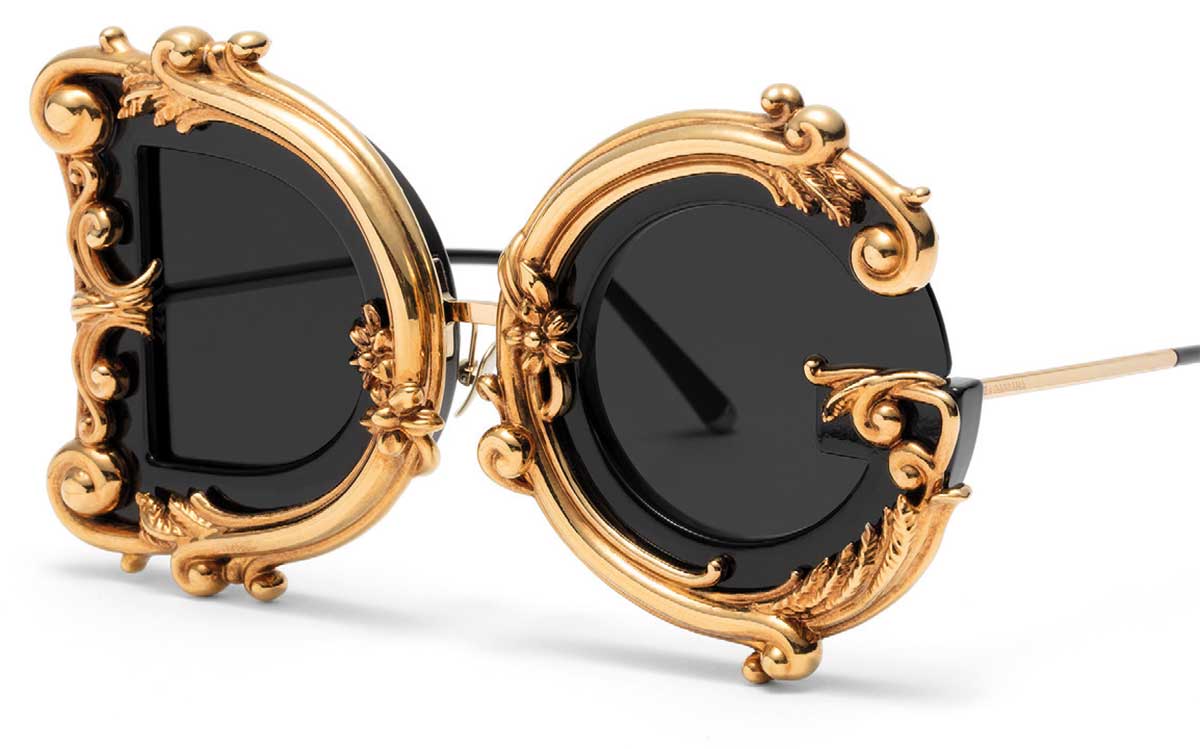 Dolce & Gabbana
DG 4366 Devotion:
These acetate oversized sunglasses with gold Baroque-inspired spirals are a new extraordinary interpretation of Dolce&Gabbana glasses characterized by the initials of the brand, which is already a style icon. The DG letters are created with a motif featuring leaves and small-stylized flowers in gold, finely antiqued metal. The model's charm is completed by black lenses and slim temples finished with gold colour.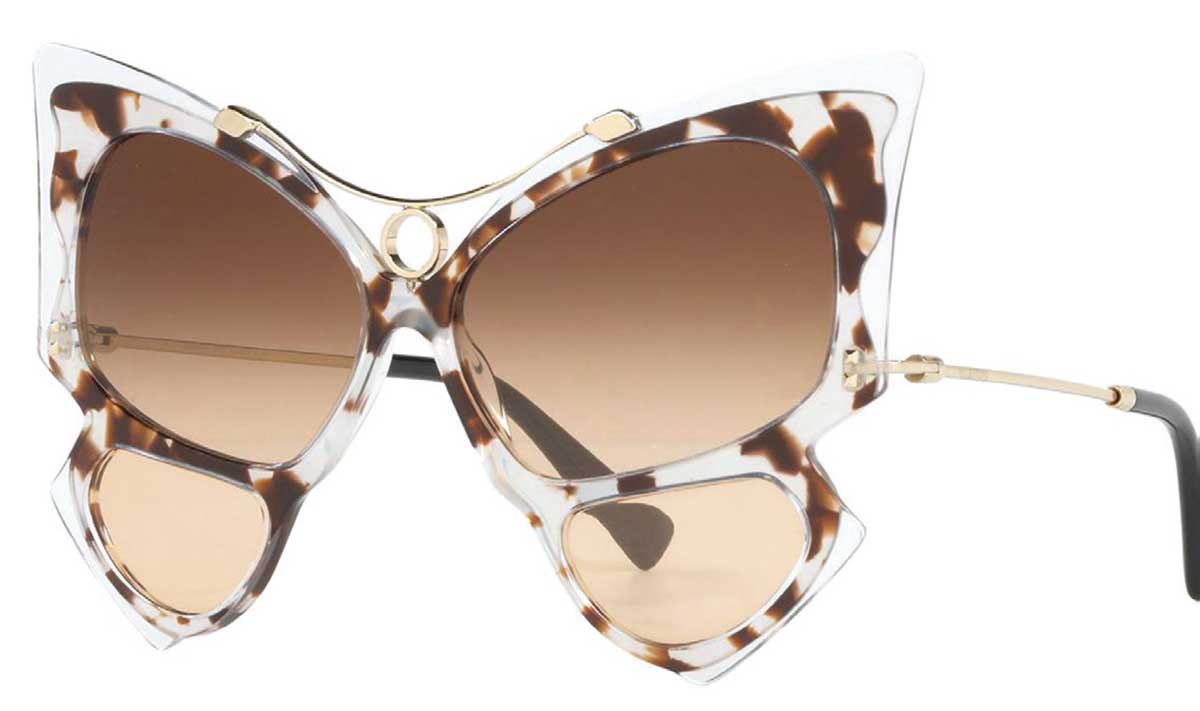 Valentino-0VA4052:
High-volume butterfly-shaped sunglasses, in bi-layer acetate (crystal over Havana), with a unique metal top bridge and a gradient 2-lens construction. With 3D studs on the temple tips, this sunglass will take your breath away.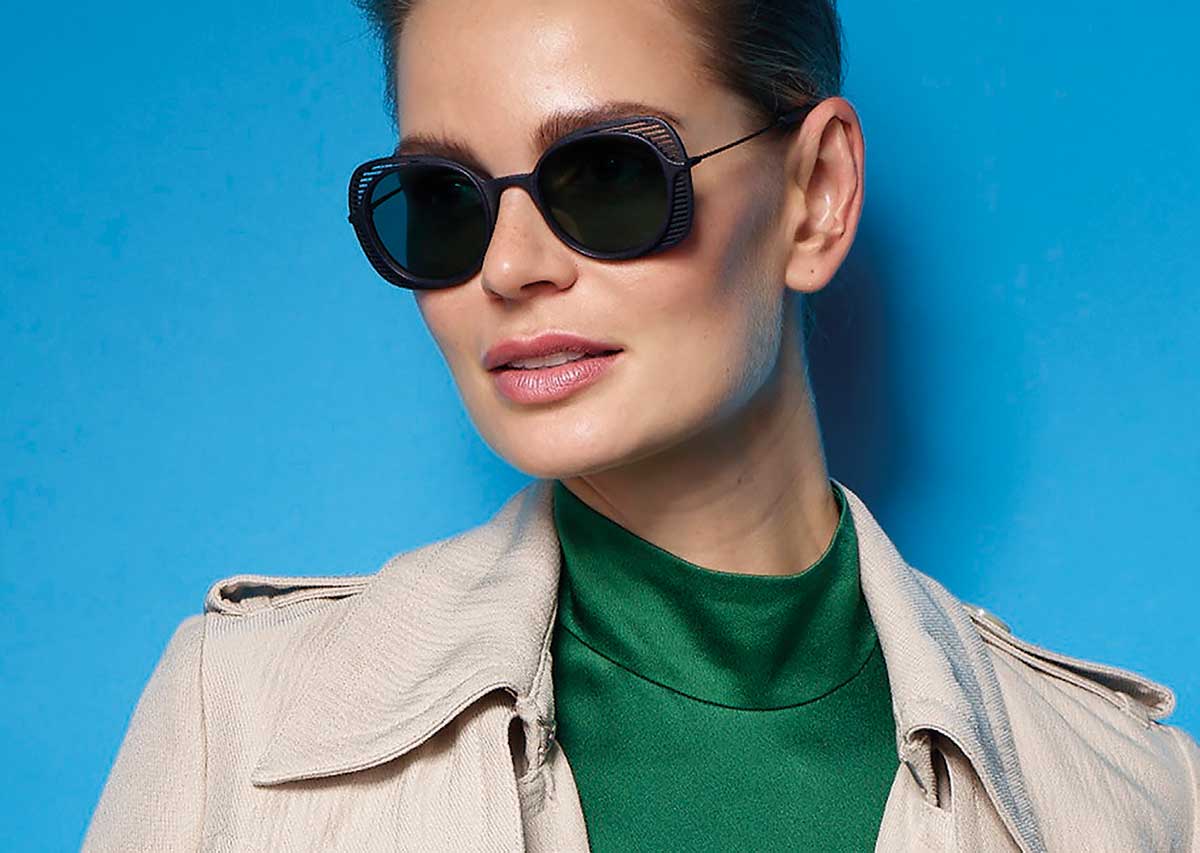 Sustainable Eyewear



ROLF Spectacles:
ROLF Spectacles have won several international awards for innovation, design and materials (wooden frames). They also recently bagged the 2019 LOFTxTEF award for best technical sunglass for their 3D printed titanium frames. The process to create these frames is highly sustainable, yielding zero-waste, and leaving a minimal ecological footprint.



MONOQOOL:
The Danish-based company launched the Slider Collection that combines the 3D printing technology to create lightweight and ultra-thin eyewear. Taking a further innovative leap Monoqool launched 3D printed sustainable sunglasses made from 100% biomaterial based on castor beans. The new SUSTAIN sunglasses are limited edition frames that have to be reserved. They are limited stores worldwide.
Old School

Jimmy Choo – SONNY:
SONNY is a vintage-inspired oval metal frame with a complementary metal chain featuring 'CHOO'. The sparkling temples embody the playful aspect
of Jimmy Choo.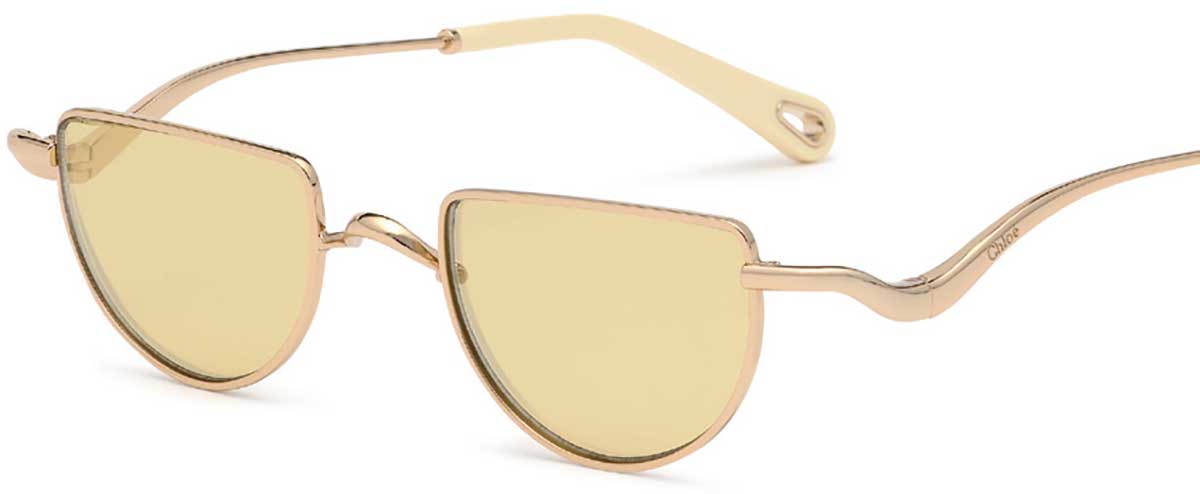 Chloé – Ayla:
Inspired by reading spectacles of the 50's, exudes the essence of Chloé's aesthetic: a fusion of fashion-forward design and vintage allure. Elegantly bold and playful, this new style features feminine curved temples finished with the signature teardrop cutout to accessorize with Chloé's eyewear jewellery.
Click-on Eyewear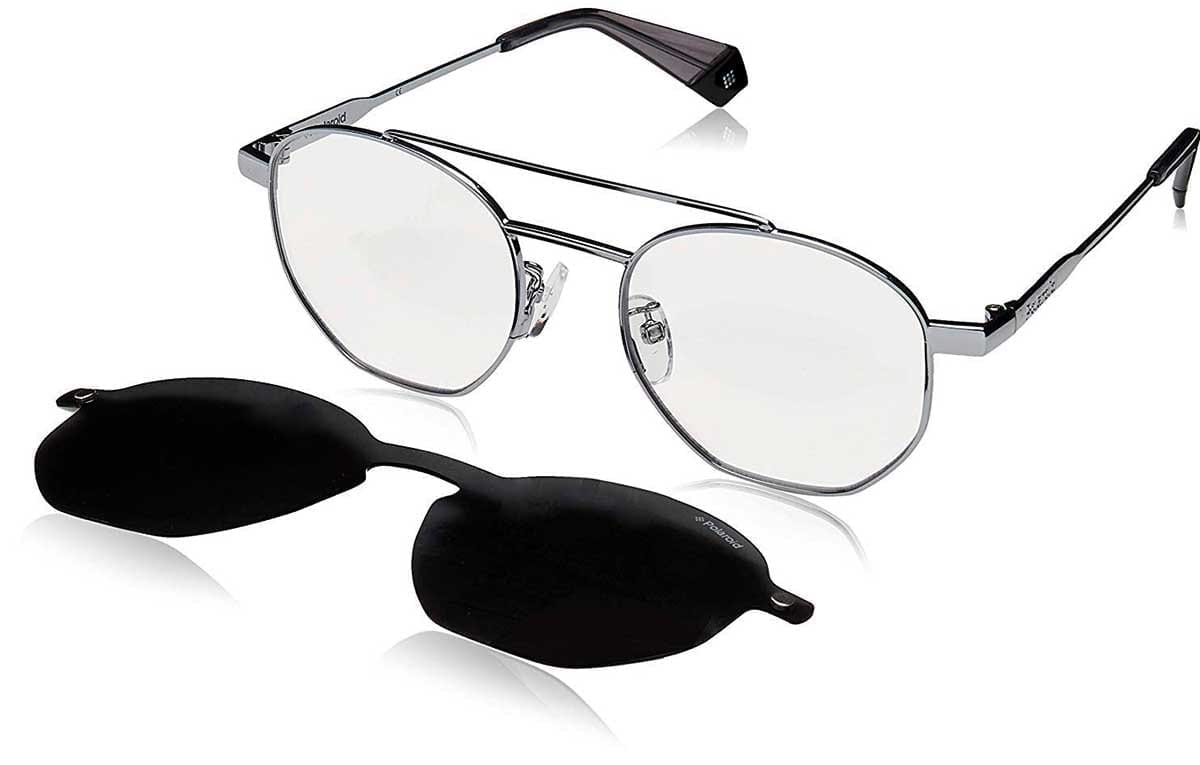 Polaroid PLD 6083:
Round slightly oval shape eyeglasses with clip-on sunglasses with palladium stainless steel front, palladium stainless steel temples and transparent blue end-tips and adjustable nose pads.
Move Over, I'm Blinging
(The Blingers)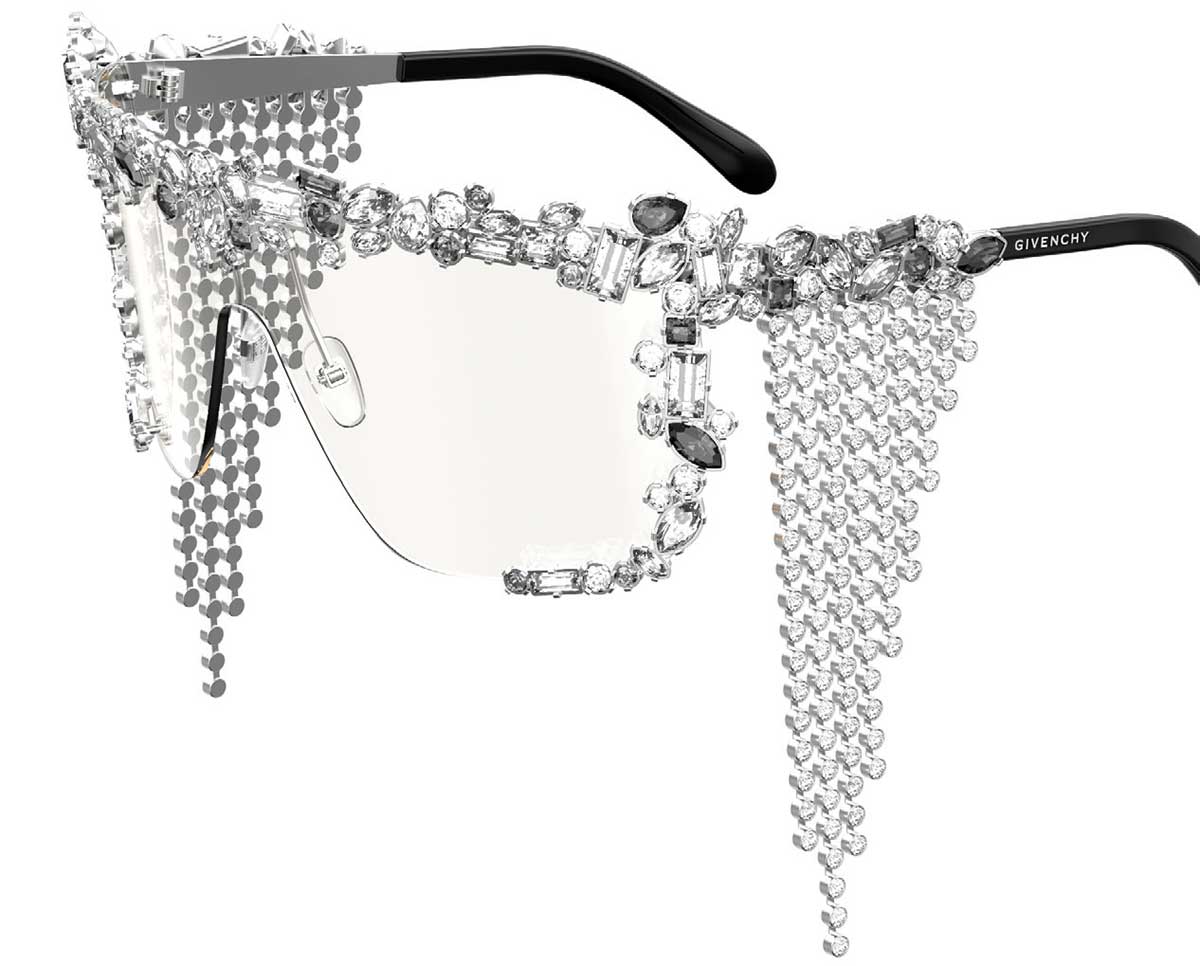 Givenchy – BR002NR01B:
Givenchy's GV Shower is inspired by rain showers and is rendered in precious-looking materials, a metaphor for nature's perpetual state of transformation.
Crystal fringe sways around the face as the wearer moves, like shimmering raindrops. Created in a limited series, the GV Shower is available with clear or tinted grey lenses, and with adjustable nose pads for ease of wear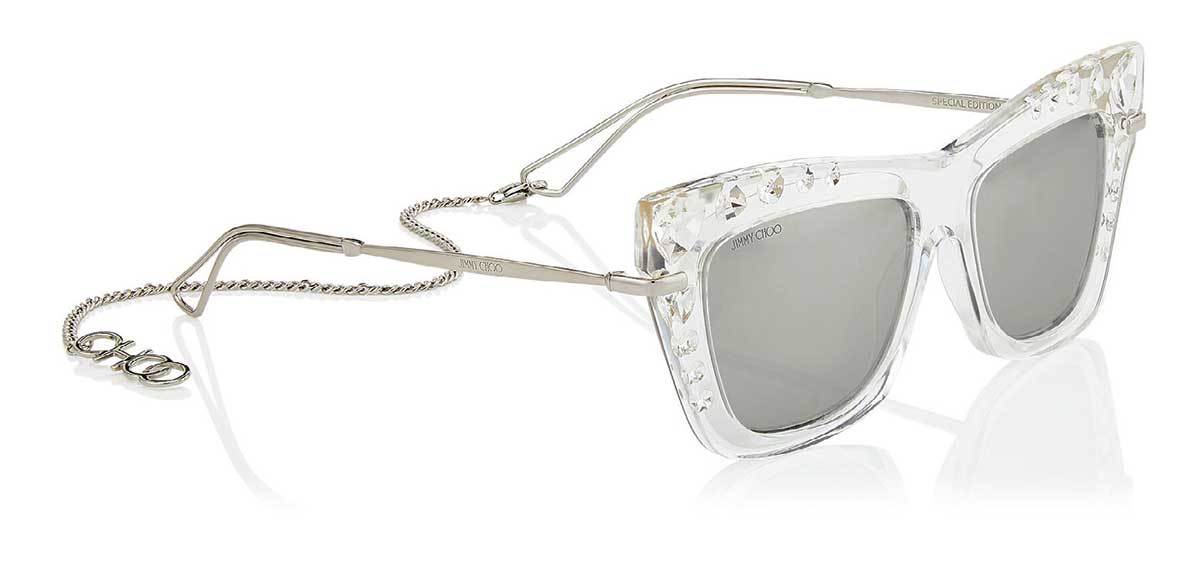 Jimmy Choo – BEE:
Make a mesmerising impression with the iconic Bee silver mirror cat-eye sunglasses. Enriched with handset Swarovski crystal stones and a metal frame, Bee comes with a dedicated leaflet explaining the uniqueness, preciousness and innovativeness of this design, plus hosts a removable Choo metal charm earing-like accessory.
Unique Shapes
Kate Spade – Karrie Sunglasses:
The Karrie sunglasses are an ode to flowers. The acetate rims are in the shape of a blossom. These shades are
just as functional as they are stylish,
fitted with cr-39 lenses, which are
known for being lightweight, providing optical clarity, and having a scratch-resistant surface.
Millennials can not be put under one category because there are just various extreme and polar opposite sides to every millennial. While one prefers the sombre, subtle look the other lives for the flashy in-your-face look, if one prefers loud colours the other loves shades of nude. Every emotion and experience under the sun has been tried and tested by a millennial and still, they're hungry for more. All about what's new and what can be explored the market created by millennials knows no bounds. Accessories like belts, shoes, bags and even eyewear are now a means of expression and not something to complete a look. Millennials do not buy products, they invest in experiences.