Moorfields Dubai multidisciplinary team performs complex treatment for rare combination of eye conditions to save vision of young UAE woman
A consultant team from Moorfields Eye Hospital Dubai – the first overseas branch of Moorfields London – has successfully treated a rare combination of eye conditions in a young woman from the United Arab Emirates (UAE). The combination of uveitis and severe secondary glaucoma (which was not responding well to medication) meant that the treatment – conducted by a multidisciplinary team of consultant ophthalmologists – carried higher than normal levels of risk and was necessary to save the vision in the left eye of a 27-year old patient, Maitha Rashid Al Suwaidi.
Maitha Rashid Al Suwaidi was originally diagnosed by Moorfields in 2014 with uveitis and severe secondary glaucoma with eye inflammation in the left eye, which is a very severe stage of glaucoma and was considered to be threatening to her vision.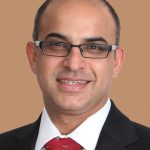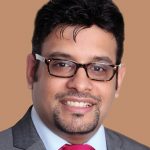 Uveitis is the inflammation of the uvea, the pigmented layer that lies between the inner retina and the outer fibrous layer composed of the sclera and cornea. Severe cases, if left untreated or treated late can result in vision loss. Secondary glaucoma is a form of glaucoma which causes increased eye pressure and can result in damage to the optic nerve and, ultimately, to loss of vision.
In the search for a long-term solution, Maitha underwent Baerveldt tube 250 (surgical insertion of a special silicone implant) treatment for glaucoma, conducted by Dr. Mohammed Sohaib Mustafa, Consultant Ophthalmic Surgeon, Specialist in Glaucoma and Cataract Surgery, while the uveitis is being treated and managed by Dr. Avinash Gurbaxani, Consultant Ophthalmic Surgeon in Uveitis and Medical Retinal Diseases and Cataract Surgery.