The Gentle Monster 2018 Collection 'RED WIDE OPEN' claims to owe its inspiration to the 1999 Stanley Kubrick film, 'Eyes Wide Shut'
It is a collection that embraces a new standard of unconventional beauty – a conceptual yet wearable collection of sculptural designs embodying radical experimentation and a new lightness in design.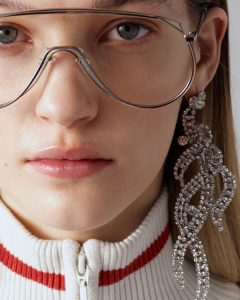 'RED WIDE OPEN' references this thought-provoking quote from Kubrick's mystery-driven thriller; the phrase itself, a calling card of the secret society depicted in Kubrick's controversial final film. The Gentle Monster 2018 collection connotes the spirit that 'challenges aesthetics and 'possibilities', heralding the next stage of Gentle Monster's evolution. Where previous Gentle Monster styles were bold and intrepid with a commanding sophisticated presence, the new 2018 collection veers towards a lighter look and cooler tones, imbued with an understated avant-gardism underscored by unexpected design details.
As Gentle Monster's bold modern vision continues to evolve, the S/S 2018 collection delves into a new lightness. Materials and thickness are reduced from all angles, presenting a lightness in both design and weight. Frames have been pared down and is matched by transparent lenses for a sense of weightlessness. Gentle Monster redefines the connotations of 'luxury' by experimenting with silver – eschewing gold embellishments for new, minimal silver elements in its design accents and the Gentle Monster logo.