The Jaguar eyewear collection combines the latest eyewear technology and unique design transfers to modern, sporty frames and sunglasses
Details from carbon, materials from the vehicle interior, as well as refined colour effects and shapes based on the profile of the vehicles, create the style statement of the Jaguar collection.
Lightweight (Mod. 36800)
Light, modern, translucent: the trend-setting Jaguar Performance frame is made of Ultem, an exceptionally light and extremely flexible material, which is also used in the aircraft industry and medical technology. It is very strong, dimensionally stable and 45% lighter than previous Performance acetate models. In the current collection, two models with a strong shape and a really thin profile are offered in four modern colours.
Masculine Design (Mod. 31509)
A great alternative to the classic look: A JAGUAR Performance frame made of acetate. Modern colouring,smart design details featuring a brushed look matt surface and colour highlights in petrol perfect this contemporary style. Available in four colours: havana/black/petrol (Col. 6762), black/havana/blue (Col. 4245), blue/havana/caramel (Col. 6851), black/red (Col. 6852).
Perfect Colour (Mod. 33586)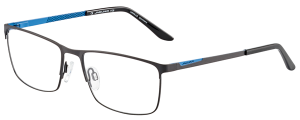 Perfectly matched proportions and sophisticated detail encapsule this Jaguar men's frame from the Spirit Collection. Design highlights are the blue temple decor with Jaguar branding as well as the honeycomb design on the inside of the temples, adapted from the interior of the Jaguar F-Type. Available in four modern colours: night blue/blue (Col. 1088), slate-grey/tangerine (Col. 1089), Basalt grey/lemon green (Col. 1090), Blue/Grey (Col. 1091).