It's time to start counting days for the most awaited – Dubai Optical Show. The event will be hosted at Dubai World Trade Centre from November 13 – 15, 2018…
Branded as – Dubai Optical Show Vision-X – it brings together the top MENA (the Middle East and North Africa) buyers in the only eyewear and eye care trade event of the region from November 13 to 15, 2018 at Dubai World Trade Centre. With a strong line-up of industry announcements and participation from new innovators and known international and regional fashion eyewear brands, Dubai Optical Show Vision-X is set to produce a comprehensive three days of business matchmaking and exhibition.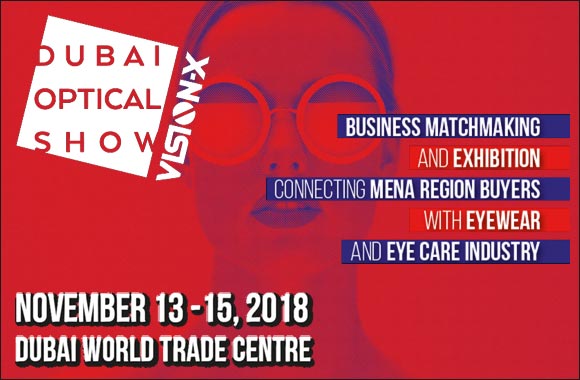 The exhibition will be divided into five different communities which are International Village, Design Gallery, Middle East Square, Lenses and Contact Lenses, Stage and Healthcare Suppliers. The International Village is the pavilion that exhibits international brands from across the globe, each one positioned with its own stand. Independent designers showcasing their niche and stylish frames will be found at the Design Gallery spot. The Middle East Square comprises of the top-tier producers from the Middle East showcasing the full range of vision-care, eyewear, and ophthalmic lenses market. Lenses and Contact Lenses Stage involves companies known for their extremely high standards of contact lens quality and product choice spanning from lenses in both standard and specialist designs. Finally, Healthcare Suppliers will showcase a unique mix of healthcare companies and experts belonging to eye care and healthcare technology worldwide.
At this year's show, latest fashion trends, top design brands, industry manufacturers, suppliers and distributors all come together under one roof to showcase what has been freshly produced for the consumers of the world. The event runs from November 13 to 14 from 10 am to 6 pm and November 15 from 10 am to 5 pm.
For further inquiries, visit www.dubaiopticalshow.com