Lenskart, the Indian optical prescription eyewear retail chain have launched Aqualens – a new contact lens brand. It includes a top-quality lens and a varied product range at an attractive price range.
Lenskart launched Aqualens, a new contact lens brand two years ago, it was being tested in the market for the last 18 months through Lenskart, Amazon, Flipkart and 1000+ retail stores. During this testing phase, it has sold approximately 50 crores worth of material and Aqualens is looking to expand the market further. Lenskart hosted a webinar recently to share the features, Product range and its B2B workplace portal.
Peyush Bansal, CEO, Lenskart said "Indian contact lens market is still at a nascent stage and is still waiting to cultivate at a rapid pace. Our job is to grow the market by investing capital in technology, manufacturing and the brand, and we believe by doing this the whole optical industry will benefit in terms of more footfall and business. Currently, the industry is at 600 crores and Lenskart is committed to grow this market to 2000 crores in the next 3 years." While launching their new www.aqualensb2b.com website (a dedicated B2B website for optical trade partners), he also added, "We believe in using technology to build a cost-effective channel of distribution and hence Aqualens products will be available to all channel partners through this platform."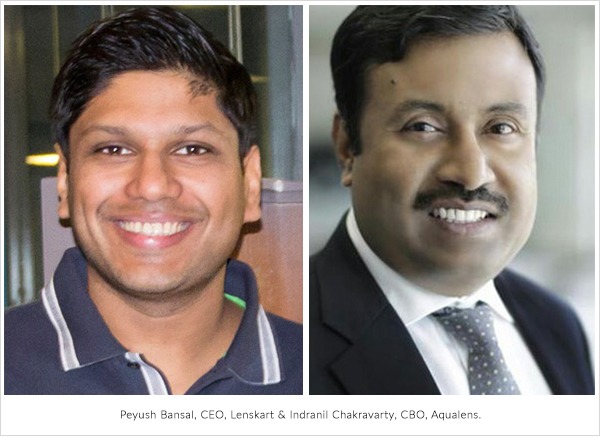 The Aqualens range includes daily disposable lenses, monthly disposable contact lenses, colour contact lenses and Contact Lens Solutions. All products are of premium quality and are approved also approved by US FDA/CE.
Indranil Chakravarty, CBO Aqualens said, "Market can be expanded only if consumers get top quality lenses at affordable prices. We are launching daily disposable contact lenses at 40 Rs/day, at the price of monthly. We are offering Third Gen Silicone Hydrogel monthly contact lenses at the price of Hydrogel." While talking about the colour contact lenses, he added, "With Aquacolor, we are launching 35 different shades and counting. We have also identified one of the biggest pain point of customers in this category, the urge to try different colours without having to splurge. So apart from the regular range, we plan to introduce Aquacolor sachets packs, which will grow the market and also drive female customer footfall in optical stores. This will have a positive rub off on the whole fashion category."
The look and feel adopted is more youthful, vibrant and energetic, trying to cater to the millennial and GenZ target audiences.
Addressing the channel partners and sharing excerpts from their new B2B app, Pratyaksh Mehra, B2B Head mentioned, "We intend to benefit the channel partners with higher margins and uniform pricing (online and offline) and have also created an end to end, web-enabled ordering system. An app that will facilitate ease of ordering and doorstep delivery without causing any hassle."
Since the brand has launched the contact lens product for the first time, they have launched in the B2B market with discount offers for optical and medical store owners.