In just under two months opti, the international trade show for optics & design, will return to its traditional pole position at the start of the year. From 13 to 15 January 2023 the ophthalmic family will meet at the Munich Exhibition Centre to find out about new products and trends in the sector and place orders spanning the entire range of ophthalmic goods.
Room and opportunity for exchanging ideas and talks by experts
With regard to making connections. The generous space set aside for the opti CAFÉ powered by ZVA in Hall C3 will provide plenty of room and opportunity for exchanging ideas and listening to talks by experts in January. Also, for the first time, trade visitors will have the chance to seek advice on their social media presence in short 20 minute slots. The social media consultations will be held in German, English and French every day of the trade fair. The experts are Sarah Schleicher, German optician and eyewear blogger with just under 19,000 followers on Instagram and Anne-Sophie Lapetitte of AnSoStyle, who is from Antibes, is also an optician and an international Instagram star with 100,000 followers. Anyone who would like to reserve their slot in advance can do so on the opti website from December. Meanwhile, the next generation of opticians and hearing experts will have the chance to find out about exciting basic and advanced training opportunities by speaking to the industry's training providers in the opti CAMPUS, which is right next to the opti CAFÉ.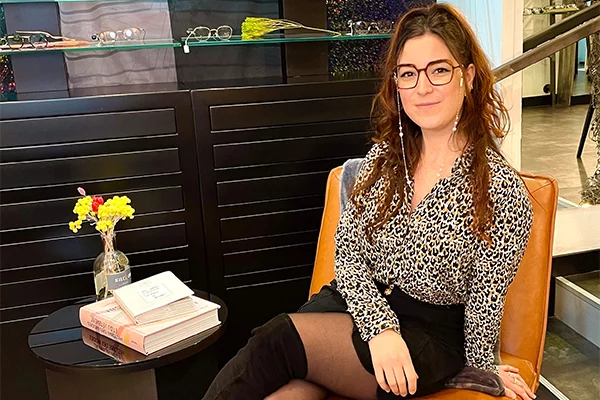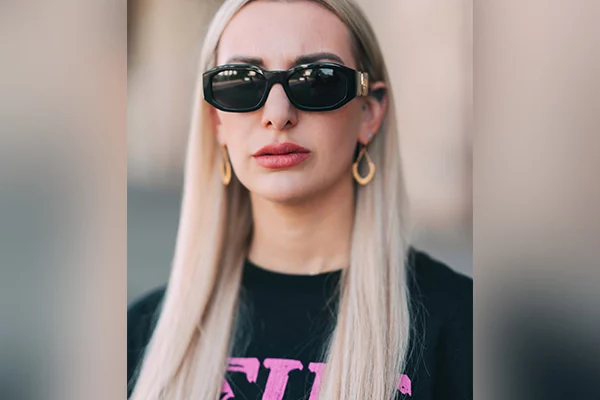 Compact and condensed
"opti Munich is and remains the most import trade fair for the optics sector," explained Alexandra Fabig of AOYAMA Marketing. The Munich location and the mid-January date are perfect for the industry, she said. "We can see only advantages – for visitors and exhibitors alike – in filling the halls more densely. We are all already excited about the opti kick-off," said Fabig. The company, which was founded in Japan, is located here in the creative setting of the Babelsberg film studio. It develops, produces and distributes around three million pairs of spectacle frames on the international market each year.
"We, the company OCULUS, stand by our word." – Rita Kirchhübel, OCULUS Head of Marketing
OCULUS, with its high-quality screening and diagnostic devices for opticians and occupational health practitioners, is new to Hall C3. "In fundamental terms, we as a company OCULUS see ourselves obliged to visit opti. In May 2022 we were very happy that we could meet our customers again in Munich. We had a successful trade fair and already knew then that we would participate again next January. For me personally, it is incomprehensible that one commits and later cancels again. This makes planning on the part of the trade fair impossible. We, the company OCULUS, stand by our word and I personally think it is a pity that there are companies that put the leading trade fair for ophthalmic optics at risk by their actions."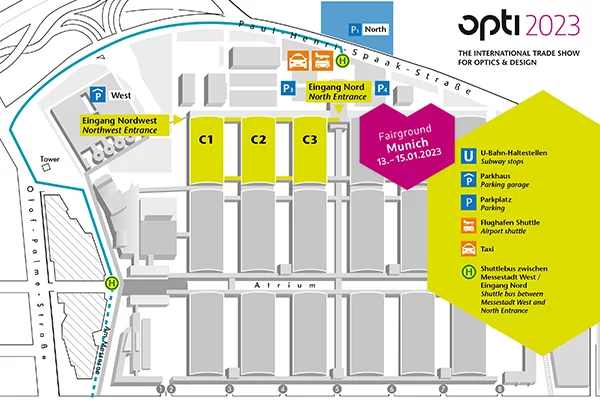 Myopia management is the key focus of opti 2023, as it was at the special May event. Sustainability in optics is also a key issue, once again reinforced by the start-ups in the opti BOXES. 5Loops, for example, aims to personify five values: the use of natural materials, the prevention of waste, a strategy on recycling, cooperation and solidarity. The newcomers from Grasbrunn in the district of Munich will be making their first-ever public appearance and launching their first collection at opti 2023 – and also competing in the second opti BOX AWARD. Also taking part is YQU from Böblingen in Baden-Württemberg, inventors of the 2-in-1 spectacles. A unique spectacle hinge enables the arms of the spectacles to be turned 360 degrees. Combined with the frames, the lenses and a two tone design, the result is an individual pair of 2-in-1-spectacles – sunglasses as well as corrective glasses.
It is not only newcomers who will be starting their new trade year at opti 2023 but also exhibitors like Lunor and IC-Berlin! for example, who will be attending for their 15th year. They will be located together with the traditional Italian company Marcolin.
opti 2023 is to be held in its traditional spot at the start of the year from 13 to 15 January.