This post is also available in:

العربية

हिन्दी

简体中文
'Normal', 'usual', 'common'… no one wants to be associated with these adjectives anymore. Eyewear fashion is all about experimenting and being more than just ordinary…
The eyewear landscape has changed dramatically during the last decade. People have been sporting various types of shapes and shades, which probably would have made the earlier generations cringe. The evolution of design and styles in eyewear is something that's been happening ever since eyewear became a fashion symbol and it looks like it's getting crazier than ever.
Eyewear has become more of a fashion quotient, a style statement and an integral part of one's identity. And when it comes to making an appearance, eyewear can be the ultimate game changer. There is no better accessory that can enhance your look while blending perfectly with your style, than an amazing pair of eyewear.
They simply add a hint of charm to one's look, so why go with the same ol' round, rectangle or cat eye? Or why even black, blue or transparent for that matter? Why not something more creative, something more artistic, something different, perhaps a tint towards the unusual?!
2019 has a lot in store for those who are interested to sport fashionable eyewear. With the wearers going all bold and unconventional with their choices, eyewear brands are doing their best to keep up with the demands and the competition. Get your new season shopping inspiration with this compilation of the most artistic eyewear designs. 
The Bling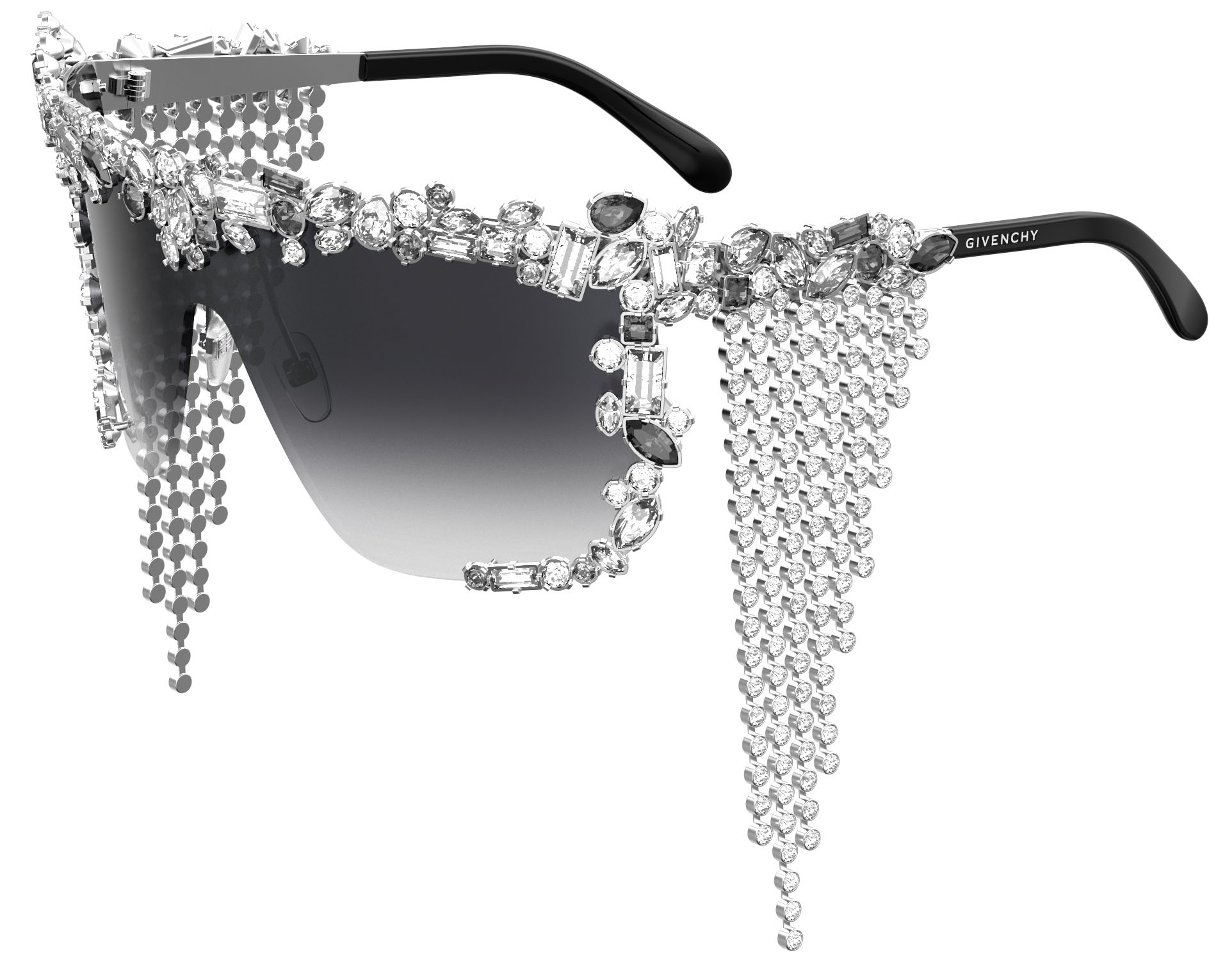 Glitz, glam and glitter can never get old. From sunglasses to prescription specs, sparkly embellishments have taken centre-stage. They are alluring, appealing and attractive. Love them or hate them, but they will be noticed. These glitter goddesses are slowly and steadily taking roots in the market, and in people's hearts.
Givenchy's GV Shower  was one of the most dramatic pieces on the runway at GIVENCHY's Spring-Summer 2019 show. Like the Podium jewellery line, this style is inspired by rain showers and is rendered in precious-looking materials, a metaphor for nature's perpetual state of transformation. Crystal fringe sways around the face as the wearer moves, like shimmering raindrops. Created in a limited series, the GV Shower is available with clear or tinted gray lenses, and with adjustable nose pads for ease of wear.

Jimmy Choo, a brand that encompasses complete luxury, class and charm, has a few interesting things to offer. Audrey and Bee are both, bold and crystal plexiglass geometric shaped frames, uniquely adorned with hand set Swarovski precious gems. The Bee sunglasses have the additional feature of the glamorous CHOO metal charm attached to the temple tips.

The DONNA sunglasses are a new geometrical silhouette with chevron hardware detail on the arm. Innovative powdered glitter inlays enhance the frames presented in classic black, tortoiseshell, cherry, glittery silver and baby pink. Donna, is the ultimate combination of glamour and grace; style and sophistication; class and creativity.
The Bold

For those who like their glasses to be bold, stylish and flamboyant, Dior's latest offering DIOR OBLIQUE is an accessory designed especially for the fashionista. With an ultra-modern styled frame that comes in a series of vibrant colours, the style has a unique personality of its own.
And those who like their sunglasses to be an extension of their flamboyant personality, DIOR OBLIQUE is sure to be a perfect addition.
DIOR CHROMA 2 is another star added to the Dior collection. The unusual lens shapes, and the gradient colours on the lens make Dior Chroma 2 the star that it is. Distinctive features, such as the absence of a bridge contrasting the top bar, and subtle detailing that enhance the temples, earns DIOR CHROMA 2 a place at the top of a fashionista's list.
The Beauty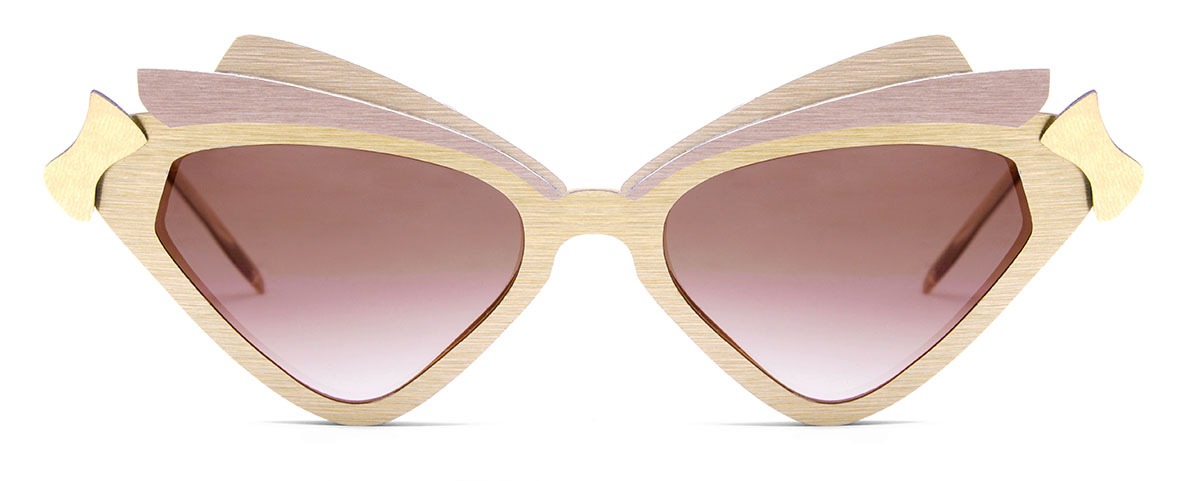 Technological precision when combined with the finesse of craftsmanship, create products that are so unique and distinctive, that they make a special place in the owner's heart. Nina Mûr is one such brand that makes eyewear more than just an accessory – a piece of art!
Deseraiki, which means to deconstruct in Basque. The collection is a refined and matured display of models marked by consecutive nuances textures as well as materials. Continuing along the line of innovation and experimentation, the curves and overlays are inspired by the architectural richness of deconstructivism.
The iconic IZORNE DESERAIKI ICON from the Deseraiki collection truly stands out. With distinctive features, unique design and impeccable precision, this piece of beauty is totally worth your niche shelf.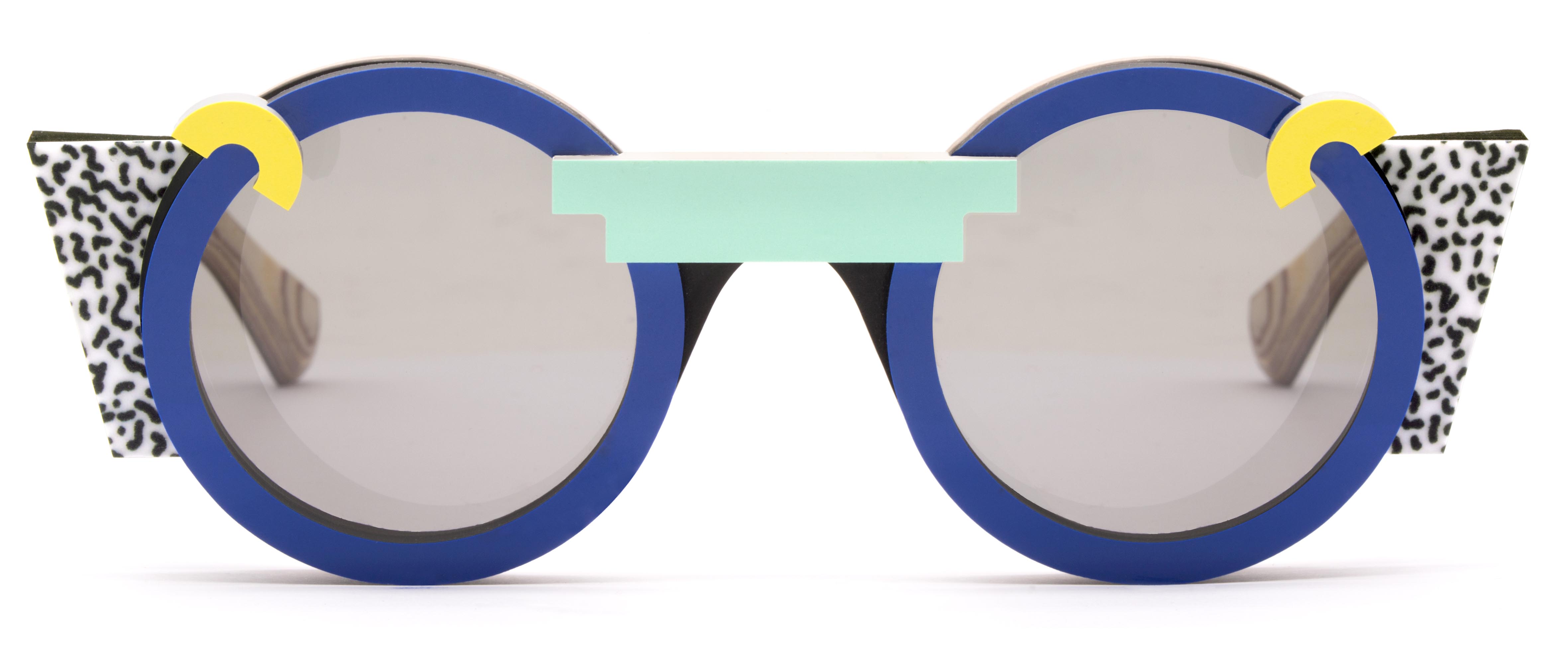 Nathalie Original Bacterio Yellow Blue, from the Eighties' second collection of the brand, is for those who just cannot stand the monotony of being normal. It is for those who like making heads turn behind them and surprising everyone around them.
Jean-François Rey is also one of those brands that likes experimenting with the designs and looks of an eyewear. Its Illusion-Sun speaks for this approach of the brand. This model is hard to miss with its very creative and quirky design.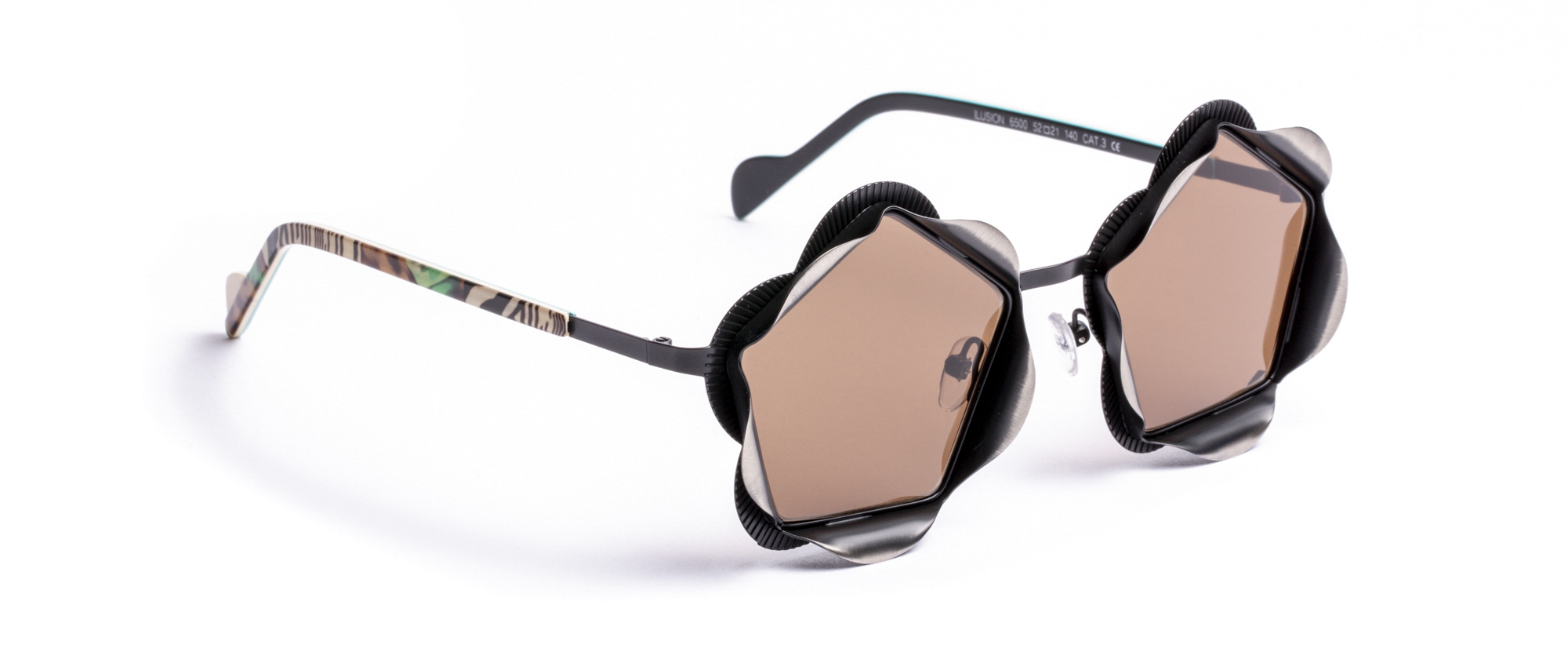 We are sure to see a lot of these eyewear around in 2019. And we look forward to them getting even more creative over time.