While selling a product, it is important to inform and educate the customer, says Anantha Lakshmi, AGM of Education & Professional Services, Essilor India…
Being able to sell a product may not be a big deal, but being able to sell the right product to your customer sure is! Those who master the fine art of selling learn to appreciate this difference.
Selling a lens
When it comes to selling a lens, there are two basic principles to keep in mind. Firstly, focus on talking about both the practical and theoretical aspects of the prescribed device.
Secondly, keep the two essential aspects of the lens in mind – Quality and Quantity. After all,  when quality and quantity match, your customer will get a better vision. There should be a good blend of both the aspects for complete customer satisfaction.
Additionally, you should focus on dispensing a lens and not just selling it. Dispensing is selling a product ethically, it's doing what customers want. It's more of a customer pull, rather than the push. And that is where an optician's smartness and talent comes in play.
Creating a customer pull
New technologies – In order to help your customer make the right choice, it is important to stay updated with the latest in the industry. Invest in staying updated and it will help.
Understanding Eyesight– Talking about eyesight, we have something called under-construction, which means from 0 to 12 years human eyesight is constantly growing, but with age, vision starts to decline. So it is important to understand the psychology of presbyopes, and for that, opticians need to not only know but understand the cycle of vision.
Correctly communicating
The lens is a mixture of lots of parameters like material, design and of course added value features. While talking to a customer, an optician needs to present an engaging blending all these details. Ensure that you are well aware of the details before communicating to the customers.
Tackling Problems  
The three-fold strategy plays a very important role in tackling problems like cataracts, ARMD, presbyopia and other age-related diseases in terms of lenses, and the opticians should know about it.
Lenses play an integral part in our lives as they are the most common, widely and easily available options when it comes to vision correction. Not only do they impart vision correction, but also help people stay clear form of harmful rays.
So here is a look at this three-fold strategy. This strategy includes vision correction, protection and prevention. Always remember that it is important for opticians to coin these words while talking to the customers. With correct words and information, both consumer satisfaction and selling motivation are achieved successfully.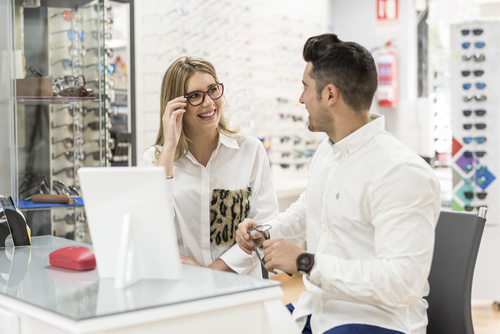 Vision correction using W.A.V.E
Single vision lenses are not considered to be normal anymore considering technologies like W.A.V.E – Wavefront Advanced Vision Enhancement, are ruling the roost. Before we go further, let us understand how does this technology work. W.A.V.E technology maps the pupil sizes and tries to control the aberrations of the vision. With W.A.V.E technology we today have lenses even for single vision wearers. Even single vision wearers can achieve crisp and clear vision. Basically, this technology may just be the perfect option that a lot of your customers are looking for.  
From eyewear to sunglasses
When we talk about selling sunglasses, the two important aspects customer looks for while buying a pair are design and functionality. For example, the use of polarised lenses in sunglasses is an excellent boost to its functionality. This is because the technology of polarised lenses acts in a very different way. Through Venetian blind principal the lenses channelize the light and make it more polarised, basically radiating the light and about these benefits.
Photochromics Vs Light management lenses
Photochromic lenses are more than just ordinary lenses. We are exposed to different lighting conditions, and that is one of the reasons why some of our lenses are based on the principles of light management. Light management and other functions are added to a lense to make it more suitable for the various light conditions that the human eye is exposed to.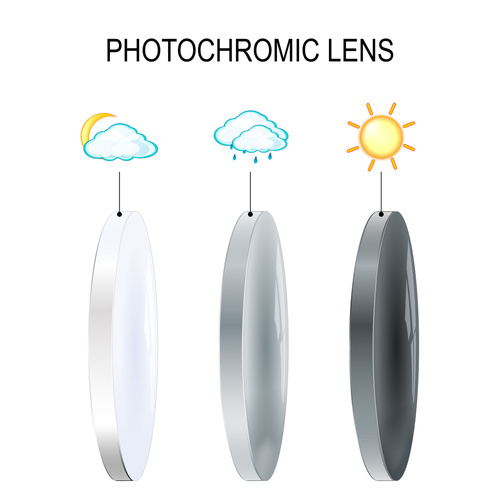 Understanding the performance driver for lenses
If you ask me what drives the performance of lenses, I would say lens design does. Opticians need to understand the latest designs. Some of the optics and manufacturing methods include options like medium soft design lenses. It's more advanced, we have an optimal vision for long and intermediate distance. Then there is  Aspheric surfaces and superior optical blanks that have been used successfully to address the complex vision issues.
This is attained through digital processing. Special softwares are programmed to design complex lenses. There are various brands of progressive lenses like Live optics. They actually map the functions of the human eye to suit specific customer requirements. The final product is handed over to the customer for usage only after extensive live testing.
Conclusion
Selling is an art, it is important to consider all the aspects before trying to convince a customer. It is essential to classify the products according to customer need and prescribe the best eyewear accordingly. Always remember, maximum consumer satisfaction should be your most important motive.