Mr. Mosa'd Dawo'od, Founder and CEO of EUROVISION, talks to VisionPlus about his work experience with MAGRABi for more than 20 years, his company EUROVISION and more…
Mosa'd Dawo'od is well experienced with the Middle Eastern and Egyptian optical markets. He shares his views about the Middle Eastern market and his plans on approaching the Egyptian market with his newly formed company, Eurovision.
VisionPlus (VP): From being a buyer from brand owners, today you are a brand owner reaching out to opticians. Tell us how does it feel to be on the other side?
Mosa'd Dawo'od (MD): I consider myself lucky because during my career in the MAGRABi group I already covered most roles and understand the industry well. Between 1990 to 1997 I was the Director of Wholesale Sales and dealt with optical stores of more than 10 countries in the Middle East. That experience is engraved in my memory and I cherish every moment of it.
VP: How do you formulate your strategies as a buyer and seller?
MD: My experience as a buyer helped me in building my plan as a seller. I have passed on this experience to my client and it's helping them determine the methods of selection, especially for the Egyptian market, due to my experience as the BUying And Merchandise Director (BUAM) of MAGRABi retail branches in the last 10 years.
VP: From overseeing the entire Middle East to now being limited only to Egypt – Has this changed your approach to business?
MD: Previously, I was dealing with countries of the Middle East individually. I learned from each experience and managed to transfer my knowledge for better results in other countries as well. This is exactly what I did before entering the Egyptian market. My experience from each country is special and has helped me in identifying the approach of my new business.
VP: The Middle East Optical Market – where do you think it's headed?
MD: The Middle East market is developing slowly in some areas, such as eyewear, as retailers believe in the sales journey and customer experience. They bear the high cost of providing this journey and the experience to their customers. However, there are rapid developments in many other areas, especially in online sales, and I believe that eyewear will reach a position where online and offline sales will be consolidated and a balance would be found. Online is important but brick-and-mortar is as important.
VP: You recently helped the Indonesian government set up a project. Could you elaborate?
MD: The Indonesia project is still under implementation and I have no rights to talk about it until it comes into effect. And this is a charitable non-profit project. I was honored to participate in this programme as a Technical Consultant for 360 degrees in the field of optics.
VP: Tell us about your partner Mr. Amr Hosny and your equation with him?
MD: My equation with my partner is based on a very simple principle of understanding and defining responsibilities – "WHO IS DOING WHAT". Our roles are clearly defined and we help each other by complementing our strengths in our own areas.
Amr is a pharmacist by profession. He left pharmacy after graduation, as he was interested in ophthalmic lenses. In spite of the economic situation of the Egyptian market, he has successfully managed to achieve a fair share of the market for Hoya lenses. His experience of over 14 years in this field has helped the organisation work efficiently and there has been consistent growth which we are sure will continue well into the future.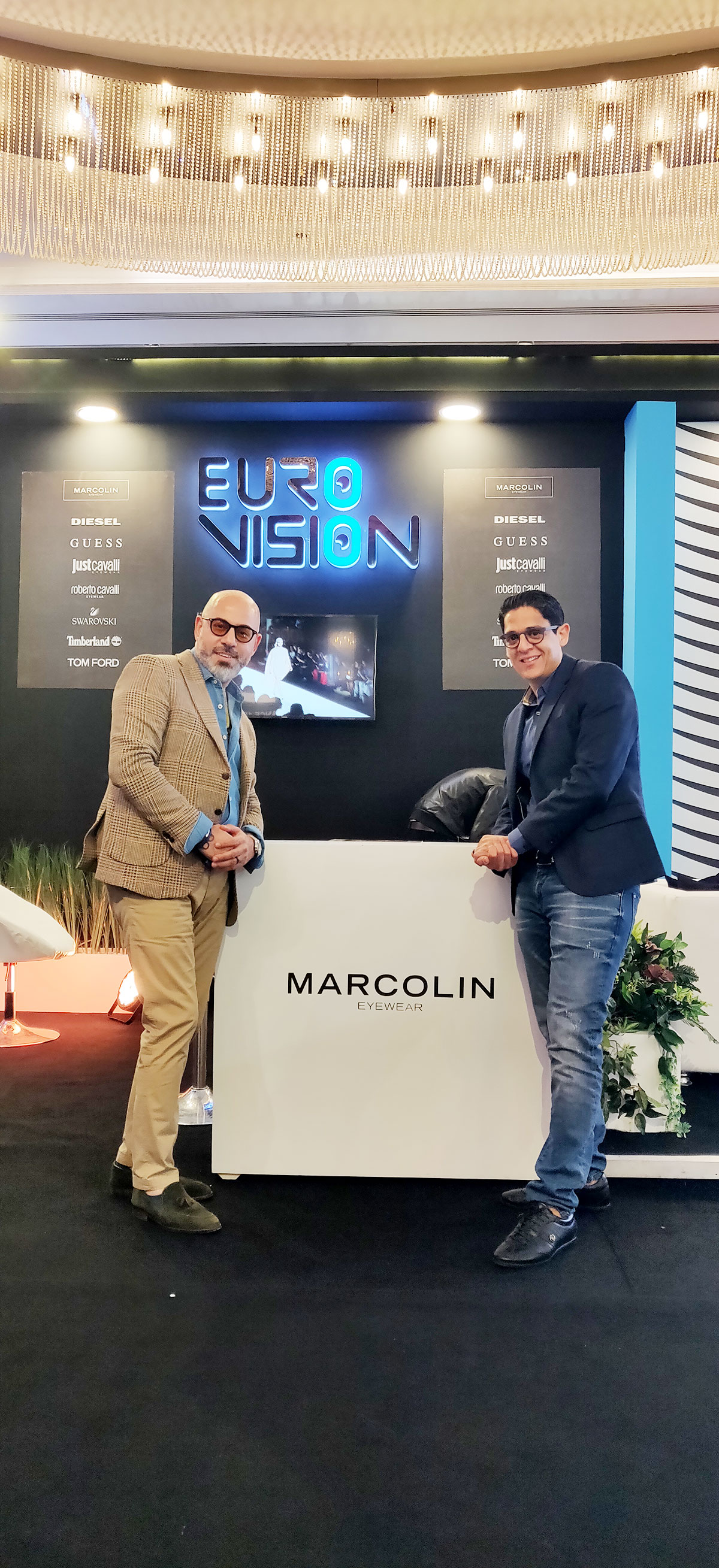 VP: Eurovision is an exclusive agent for Marcolin Middle East in Egypt. What makes Marcolin different from the others?
MD: Marcolin is a well-established company that has been operating since 1961 and has an annual income of more than 470 million euros according to the 2017 budget. It has 27 international brand licenses and has two brands.
In 2017, they signed a joint venture with Rivoli Group MME and established a joint venture with LVMH in the eyewear industry. This company has enjoyed success at the global level with its diverse brands and it has catered to the requirement of all types of customers in terms of gender, value or fashion. I am sure this association with Marcolin will be a win-win opportunity in the Egyptian market for Marcolin as well as Eurovision.
VP: Do you think Marcolin brands are the right choice for Egypt and why?
MD: Of course, it is a very well thought over choice. Marcolin has the diversity of its brands and products and occupies an enviable position in the minds of all customers in the Egyptian market.
VP: In your capacity as a Jury member for the CiO VP Awards, what is your take on this platform and its growth?
MD: I would like to thank all those in charge of the VP AWARDS competition for their contribution to the development of the optical industry during the last few years. I sincerely wish for its further growth and for more participation from international brands as well as from the Middle Eastern markets.
VP: On a personal note, would you want your family to be a part of the business that you have started?
MD: Of course, I want my family to be a part of my new business. My family consists of my wife, two sons Ahmed and Adham and my daughter Hane'n. My wife has always supported me and is the reason for my success.