VP Academy (in association with Essilor) has completed its first session in Mumbai and it was a HIT! 
VP Academy, being the only of its kind, not only received inquiries from the entire nation but had participants joining from different cities in the country. That in itself was an achievement for the organisers.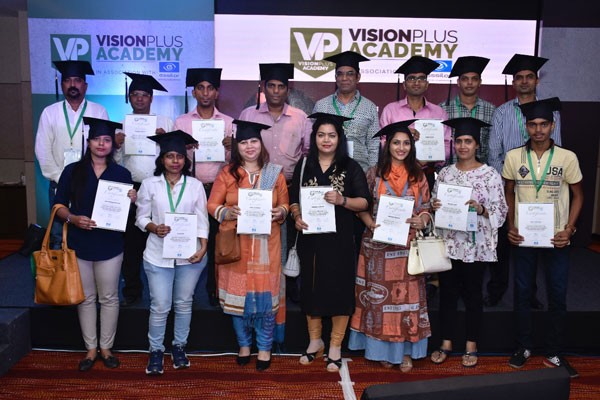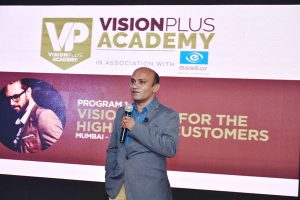 This initiative by Mr. Siraj Bolar, Editor In Chief, VisionPlus magazine saw its light on May 19, 2018, at Courtyard by Marriott Hotel, Mumbai. The idea was to bring the optical fraternity in one room and learn. Period.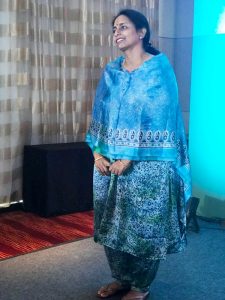 Our warm gratitude to Ms. Prema Chande of Lotus College Of Optometry on being the knowledge partner and the person behind understanding the need of the hour.
And also, to all the participants who were truly in the most sporting spirit to learn and do better.
There is a huge hug of 'thank you' going from us to the team of Essilor for being the biggest supporters for this idea and later its execution. And also for allowing us and the participants learn from the best and the most influential, Ms. Anantha Lakshmi. The programme's first session was conducted by her on the topic of Ophthalmic Lens under Vision Care for HNI customers.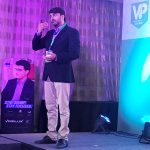 The second session was again a very engaging one, with additional puns and jokes from Mr. Nilesh Thite, the man in the Contact Lens Industry needs no introduction. Nilesh's session involved a lot of engagement from the participants as well, this ensured how much they were all learning and how interested they were even after an hour's lunch break at the five star!
The idea was to only and only communicate with the opticians in a manner that they feel confident to ask. And understand.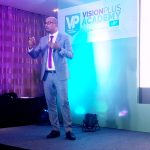 The third session was Mr. Kaleem Khan's on Frames & Spectacles and it was entertaining. He made very clear distinctions on what 'luxury' meant. And how every person has a different perception towards it. His session concluded by giving a very real and applicable definition to the participants on the word luxury. This clearly motivated the participants enough that the moment it was over, our team started receiving questions on when the next programme is and how can they be a part of it.
Unfortunately for us, we had to refuse to the late coming participants as this programme was a house-full and we had no space to accommodate. We will be announcing the details for the next one soon and request everyone to be the first to apply and register.
Later that evening, the sessions concluded into a networking session for the optical store owners as well as optometrists. They enjoyed discussing and asking questions amongst each other as well as with the speakers. Many of them had ideas on how they'd like to implement certain things in their stores out of everything that they learned.
Here's what your optical industry friends have to say:
Amar Turakhia, Turakhia Opticians on VP Academy:

"I think this was a good initiative by VisionPlus Academy and I think they are doing really good as this is a new thing for the optical industry. Even though it was the first programme, it was very good. For retailers like us all the sessions, contact lenses, ophthalmic lenses, frames & sunglasses were very informative. And I think every optical retailer should be a part of it. This is a great initiative by VisionPlus."
Priyanka Dedhia, Classic Vision on VP Academy:

"Sessions conducted by VP Academy were very resourceful and very knowledgeable, as in the content especially about ophthalmic lenses. As an optometrist, we work more towards contact lenses. So the session on the ophthalmic lens and even on luxury products was very good.
Personally, a lot of effort has been taken by the VP Academy itself and they've got the best speakers of each industry. So overall it was a very nice experience and I would like to be a part of it once again."
Mr. Nimesh Vadhar, Supreme Optics: "Just keep updating many such programmes for betterment of our knowledge."

Ms. Kavita Turakhia, Turakhia Optics: Overall great initiative! There can also be a lecture on how to display frames & sunglasses at the store, that would help to pitch in higher sales.

Ms. Bhavika B. Thakkar, Optigen: "Excellent management!"

Mr. Kishor S. Batheja, Dhiraj Optical: Please arrange these type of programmes and seminars in every city. It was nice to attend.

Mr. Vimal H. Shah, Spectonet: Learning is a never ending process. It should continue! All the best to VP Academy!
Click here to see what they learned!