With diverse opinions and different viewpoints, can a concept of focussed vision for the optical industry take shape? AIOF's attempt in this direction seemed like a welcome wave. But the question is how far will it go?
At VisionPlus, we have always propagated innovative thinking and initiatives that have played a crucial role in pushing the optical industry forward. I don't think we are here to discover or discuss the circumstances that led to the establishment of All India Optical Federation or AIOF. Whether AIOF is a brain child of one individual actively involved in the optical business or a culmination of thoughts of a group of determined individuals who were keen to bring about a positive change in the industry, is not a cause of concern.
What I am excited about is the new dawn of positive changes that the optical industry is witnessing as a result of a body like this coming into existence. Currently, it does seem to be plagued with internal issues but I am hopeful that the esteemed members will overcome differences and work towards the greater good of the Indian optical trade.
As a true patron of innovative thinking and changes that uplift the standards of the Indian optical trade, I also believe it is important to laud the efforts of those who brave the tide to bring about the change. Through this feature, I aim to shed light on the people who played a key role in forming All India Optical Federation or AIOF, the expectations of the industry and the current situation that does pose a threat to the very vision that led to the formation of AIOF.
The Foundation
AIOF is said to have been formed by the coming together of some of the biggest chain of optical stores across India. Initially the idea whether AIOF should be only one set of like minded opticians get together and form an association or open it to any optician who is willing to become member seemed debated but at the end decided that it should be the coming together of representatives from every segment of the business, the retailers, manufacturers, wholesalers and distributors of optical products.
Prominent among those who conceived and developed the idea of forming AIOF continue to be the office bearers of the association.
Before we delve deeper into the subject, here is a look at the office bearers of AIOF:
Sudershan Binani of Himalaya Opticians and Pragnesh Gangar of Gangar Opticians were made President and Vice President respectively while Sanjeev Madan of Bonton Optician was made General Secretary. The Treasurer's position was given to Anup Kumar of R Kumar Opticians and Snehal Turakhia of Turakhia Optical took upon as Joint Treasurer.
Hitesh Thakker, Kakubhai Thakker Optician was selected as the Editor. Seven committee members were added. They are Dhimeer Shah, Eyetech Optics, Hemant Manay, SR Gopal Rao Opticians, Ranpreet, Weldone Optician and Sherrif Bhai, Lens & Frames.
The Mumbai Optical association extended its helping hands to AIOF in its formation. Some others who deserve a mention at this stage for their support to the initiative are Lalit Kalra of Dayal Optical in Delhi, Devesh Gupta of Suprol Optical in Delhi, Hem Garg of R. K. Enterprise in Delhi,Yogesh and Vivek Mulwani of ABC Optical in Lucknow, Samrat Arora of Arora Opticals in Punjab, Aanand  Maharwal of Maharwal Optical in Jaipur, Dinesh Shah of  Savera Optical in Chennai, and Naishad Desai of Anand Optical in Gujarat.
Today, AIOF is said to have over five hundred members.
But what is the mission, goal and manifesto of the association?
The aims and objectives of AIOF seems to promote the growth of the retail optical business in India by improving the standards of prescribing and dispensing vision aids in the country, ensuring  legislation and fair implementation of rules to govern the optical retail business. Another key role of AIOF that the organisation mentions in its manifesto is acting as bridge between traders and government to tackle issues from time to time.
Given this background, office bearers of AIOF should be keen to work towards identifying a solution for the situation and meet their objective of ensuring fair trade practices. The ultimate motive of the organisation should be to uplift the standards of Indian optical trade.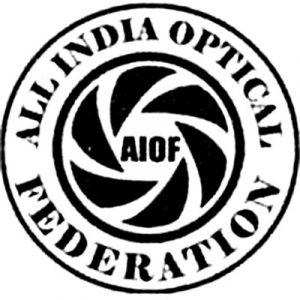 Will AIOF Survive?
Given the amount of effort that has gone into forming this association it is disappointing to see the current clash of opinions that already has begun to plague the mission of the organisation. I agree that in any organisation of AIOF's stature, minor conflicts or difference of opinion, as we would like to call it, is unavoidable. However, I, as a true well-wisher of the Indian optical trade urge all the esteemed members to try and overlook these differences and work for the greater good of the industry. When it comes to the optical trade, there is a lot of development happening in different parts of the world and India still has a lot of catching up to do. Opticians look up to a body like AIOF to lead the way into this change and bring about the difference that they are hopeful to see. And so, I believe, it is their moral responsibility to live up to these expectations and work towards delivering it too.
As a concluding note, I would like to leave my readers with some food for thought about AIOF. As of now, the simple question that is sure to have come across your mind as well is, will AIOF tide over these differences to fulfill its promises? Will the association be able to live up to the noble intentions of working in the interest of all the stakeholders of the optical trade community? Clearly, answers for these will only be revealed over a period of time. Till then, the industry has little choice but to wait and watch how the future unfolds.